History
The Dutch passenger carrier Christiaan Huygens was build in 1928. It saw most of its service on sailings between Amsterdam and Batavia (Dutch East Indies). The ship was used during the second world war by the allied forces as a troop transport vessel.
Summer 1945, the ship was refitted in Antwerp. On the 25th of August she was on her way to Rotterdam. The ship ran into a mine at the Steendiep (near Walcheren). To prevent the ship from sinking, it was stranded on the South-Steenbank. On the 5th of September 1945, the hull broke. Attempts to save the vessel were stopped. She lies approximately on a depth of 30 m now.
The Christiaan Huygens was a luxurious cruise ship. Divers report that at least parts of the interior are still reasonably well preserved. Bronze statues and elaborate sealings were made by - at the time - well known artists as Carel Adolph Lion Cachet (1854-1945) en Lambertus Zijl (1866-1947).
Description
Built: Ned. Scheepsbouw Mij, Amsterdam #186
Propulsion: 2x ten cylinder two cycle single acting Sulzer (Winterthur built)
10ST68 diesels producing 5,800 Bhp each at 115 Rpm
Screws: 2
Line: Stoomvaart Maatschappij Nederland (Also known as the Netherland
Line)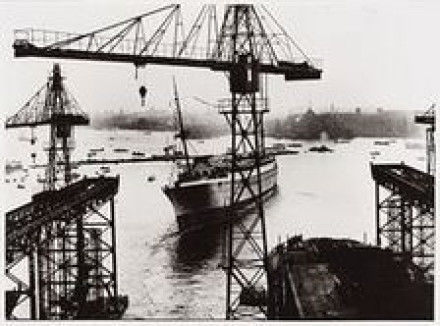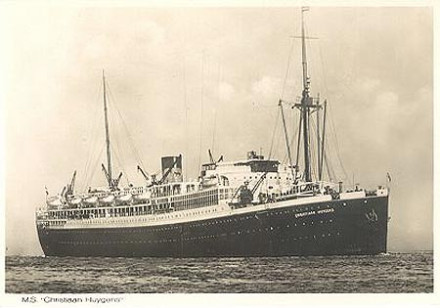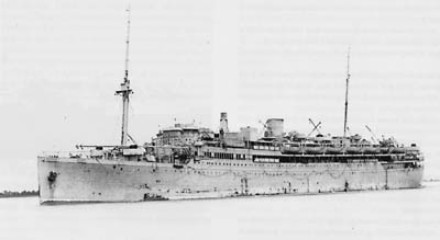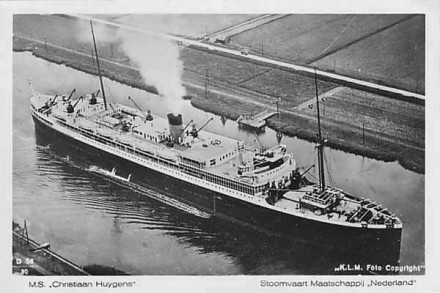 | | |
| --- | --- |
| People on board | 638 |
| Speed | 16 knots ~ 18 mph (30 km/h) |
| Length | 551.4 feet (168.1 m) |
| Width | 68.7 feet (20.9 m) |
| Draft | 39.8 feet (12.1 m) |
| Tonnage | 15637 ton |
| Displacement | 21700 ton |
References