History
Moskva (Russian: Москва) was a guided missile cruiser of the Russian Navy. In the Sovjet period she was called Slava (Russian: Слава, lit. 'Glory')Shje was comisioned in 1983 as Slava.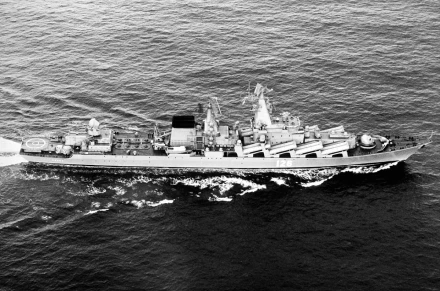 Wikimedia Commons
Malta summit
Slava played a role in the Malta Summit (2–3 December 1989) between Soviet Leader Mikhail Gorbachev and US President George H. W. Bush.[12] She was used by the Soviet delegation, while the US delegation had their sleeping quarters aboard USS Belknap.
Recommisioned Moskva
Recommissioned in April 2000, Moskva replaced the Kynda-class cruiser Admiral Golovko as the flagship of the Russian Black Sea Fleet from 2000-2022. With a crew of 510, Moskva was the most powerful surface vessel in the Black Sea region. The cruiser had previously been deployed in several military conflicts, including in Georgia (2008), Crimea (2014), and Syria (2015).
Moskva final fate
The Russian defense ministry stated the warship was wrecked in stormy weather during a salvage operation. The Ukrainian army, on the other hand, claimed that it had hit the Russian flagship with Neptune missiles.
The Russians confirmed that a fire had broken out on the ship, but denied that the Moskva had been hit by Ukrainian missiles. Ammunition had exploded, Moscow said. The fire forced the entire 500-person crew to disembark.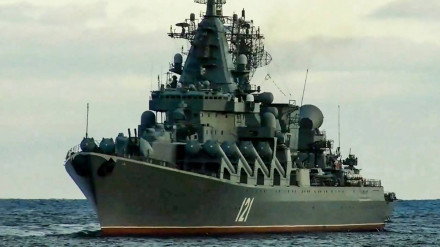 AFP, Russian navy
Casualties?
Lithuania's Defence Minister Arvydas Anušauskas said on 14 April that a distress signal had been sent from Moskva that day, and a Turkish ship responded, evacuating 54 personnel from the cruiser at 2 a.m., before she sank at 3 a.m.¹
According to him, there were 485 crew on board, of whom 66 were officers. It was not known how many had survived. The Russian Ministry of Defense said that the crew had been fully evacuated.
Ukrainian sources reported on 15 April, that lives were lost and First Rank Captain Anton Kuprin (age 44), commanding officer of the ship, had been killed in the explosion and fire.
Naval News did a head count of the sailors who are meant to have survived the sinking and came up with a head count of 240 survivors.
On April 16, Russia released a video in which it claims to have held a meeting at Sevastopol with 100 sailors of Moskva, along with Navy Commander-in-Chief Admiral Nikolay Yevmenov, who said that the sailors would continue their service in the Navy.
Snake Island incident
The warship made headlines 24-2-2022 at the start of the war in Ukraine. It was located off the coast of Snake Island ( Zmiinyi) in the Black Sea and asked Ukrainian border guards on the island to surrender. On a released audiofragment of the incident one can hear a Ukrainian soldier yelling "Russian warship, go fuck yourself." at the Russians. The border guards were subsequently captured. And later released by the Russian governement
Wikimedia Commons
Stamp
The border guards' verdict became the symbol of resistance against the Russian invasion of Ukraine. On April 14, 2022, a special stamp was issued by the Ukrainian Post Office bearing the ship and the statement "Get the kolere". The first printing of the stamp sold out within hours.²
Description
Type: Slava-class cruiser
Built: 61 Kommunara Shipbuilding Plant (SY 445), Mykolaiv, Ukrainian Soviet Socialist Republic
Armament:
16 × P-500 Bazalt or P-1000 Vulkan anti-ship missiles
8 × 8 (64) S-300F Fort (SA-N-6 Grumble) long-range surface-to-air missiles
2 × 20 (40) OSA-MA (SA-N-4 Gecko) SR SAM
1 × twin AK-130 130 mm/L70 dual purpose guns
6 × AK-630 close-in weapons systems
2 × RBU-6000 anti-submarine mortars
10 × (2 quin) 533 mm torpedo tubes
| | |
| --- | --- |
| Master | Anton Kuprin |
| People on board | 510 |
| Speed | 32 knots ~ 37 mph (59 km/h) |
| Length | 611.6 feet (186.4 m) |
| Width | 68.2 feet (20.8 m) |
| Draft | 27.6 feet (8.4 m) |
| Tonnage | 12490 ton |
References