History
Description
In 1903 Mesudiye was sent to the Ansaldo shipyards in Genoa, Italy, for a complete rebuild. Her three masts were replaced with a single mast, and two turrets were fitted. The 10inch MLRs in her central battery were replaced with modern 6inch (15cm) guns, but as the heavy guns for the turrets were not ready at the time the refit ended, wooden guns were fitted in their place. This was still the case in 1914. Balkan war
In the First Balkan War, Mesudiye participated in both naval battles with the Royal Hellenic Navy, at Elli on 16 December 1912 and at Lemnos on 18 January 1913. In both engagements, the Ottoman fleet was unable to break the Greek naval blockade of the Dardanelles. Mesudiye was not harmed in the first, but was damaged in the second.
Sinking of the Mesudiye
At the beginning of World War I Mesudiye was ordered to anchor just south of the Dardanelles Narrows at Chanak, in Sarisiglar Bay as a floating battery to protect the minefields. Both the ship's captain, Besiktasli Arif Nebi, and several officers protested this order, but the opinions of the German naval advisors prevailed.
On 13 December 1914 the British submarineB-11 entered the Dardanelles, and torpedoedthe Mesudiye from a range of 800 mexactly at noon, as the ship's crew gathered belowdecks for lunch. Lookouts saw the torpedo and B-11 ' s periscope, and sounded the alarm, and the Mesudiye s guns began to fire towards the point where the submarine had been sighted.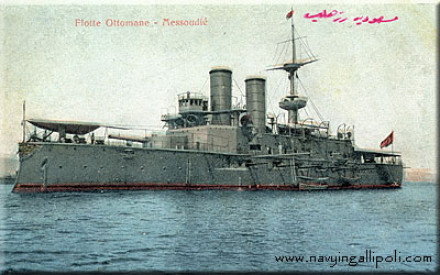 The impact of the first torpedo caused the Mesudiye to heel severely.She capsized in 10 minutes, trapping most of the crew; however, as she was lying in shoal water, most of the hull was above the surface, so most of her crew were rescued by cutting through the hull. Thirty-seven men were killed in all, 10 officers and 27 men.
The Mesudiye's guns were salvaged and mounted in a shore battery bearing her name, and later caused substantial damage to the French battleship Bouvet.
Description
Name:Mesudiye Zýrhlý Firkateyn-i
Hümayunu(Royal Armoured Frigate
Mesudiye)
Navy:Ottoman navy
Class:Central-battery ironclad/
Pre-dreadnought
Laid down: 1872
Launched: 1874, rebuilt into a
pre-dreadnought vessel, 1903
Shipyard: Thames Iron Works, UK
Dimensions: 101 x 18 x 7.9 m
Tonnage: 9,250
Armament (1903 rebuild): two
240 mm,twelve 152 mm, fourteen
76 mm, ten 57 mmand two 47 mm
guns.
The Ottoman ironclad Mesudiye was the largest central-battery warship ever constructed and hadbelt and battery armour of up to 12inches(300mm) thick.