History
The Meermin (Mermaid) was trading copper in Madagascar. Captain Muller was able to persuade a party of native Madagascians to come on board. Then he hosted sail and went for Africa. But soon after departure the prisoners managed to overpower the crew. Most of the crew were killed. Because the Madagascians could not navigate and sail the ship, they spared the captain and a few crew members. They ordered the captain, Gerrit Christopher Muller, to return to Madagascar. He managed to deceive the inexperienced Madagascians and reach Cape Agulhas (Struisvogel baai).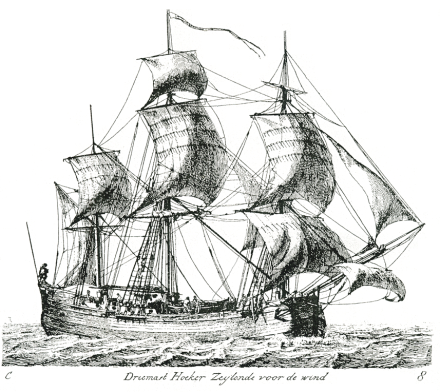 The ship anchored there. The coastal residents were warned with the help of bottle mail. Some of the Madagascians went ashore and were killed by farmers. The slaves on board understood that they had been misled and started a fight with the sailors. The captain cut the anchor line and the ship drifted to the shore where she eventually stranded. The slaves surrendered and were sold at the slave market in Capetown.
Description
Type: Hoeker
Originally a hoeker was a fishing boat. Later also adapted for trade.
Built for the VOC chamber of Amsterdam in 1759
Length: 110 ft
Tonnage: 225 last
Complement 62
Master: Gerrit Christopher Muller
Status
A search for the ship was initiated in 2004. No results.
References