History
The Mary Celestia, also known as the Mary Celeste or Bijou, was a 68.5-meter-long blockade runner built in 1861. The ship worked transporting banned goods in and out of the Confederate ports during the Civil War. This side-paddlewheel steamer excelled at running blockades, reaching a top speed of 17 knots. In 1864, the Mary Celestia left Wilmington, South Carolina loaded with a cargo of food, ammunition, and rifles. She was driven by expert Bermudian Pilot John Bristow Virgin while passing Bermuda on a calm day at 13 knots. As the Mary Celestia sped past, the ship struck a blind boiler and sank on the southern reef.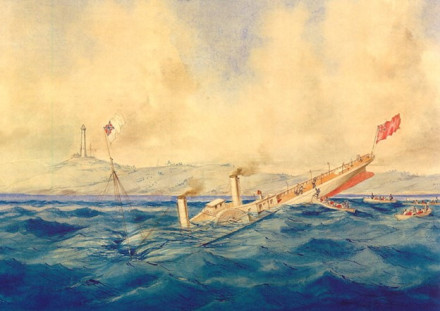 The only casualty was the cook, who rushed back to his cabin as the ship was sinking and never reemerged. Today, there is still speculation about whether the ship's sinking was an accident or sabotage.
Description
| | |
| --- | --- |
| Speed | 17 knots ~ 20 mph (31 km/h) |
| Length | 224.7 feet (68.5 m) |
| Displacement | 207 ton |
Status
The Mary Celestia currently lies 18 meters below the surface on a flat, sandy seabed. An initial survey and documentation occurred by East Carolina University in 1983 and 1986.
Later in 2011, the bow was further excavated by marine archaeologists and in 2013 a photogrammetric model of the wreck was created. During the 2011 excavation, multiple artifacts such as a shoe, perfume bottle, and a hairbrush were uncovered, documented, and recovered.
One of the more interesting finds in the wreckage were the multiple alcohol bottles in a wooden crate discovered stashed in the bow. As this blockade runner was carrying goods solely meant to supply the war effort, finding items such as these imply a possibly different meaning. Were the crew members possibly dealing in contraband intended for private sale? Or were they meant for private use?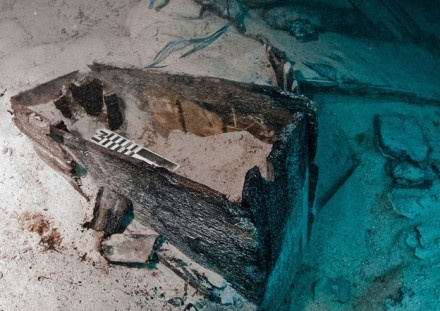 Once these items were recovered, analyses were conducted on the different types of liquids still residing within the bottles. The perfume recovered was sent to be studied in order to recreate this scent, which is now sold on the island of Bermuda. Back on the seafloor, anchors, paddlewheels, parts of the wheelhouse, and coal can still be seen when diving this wreck.
References
Delgado et al. (2016).
Archaeological Excavation of the Forepeak of the Civil War Blockade Runner Mary Celestia, Southampton Bermuda.
Office of National Marine Sanctuaries, National Oceanic and Atmospheric Administration.
James P. Delgado (2011).
Letter from Bermuda: Secrets of a Civil War Shipwreck.
Archaeology, volume 64 number 6.
Fae Sapsford.
The History of the Mary Celestia Shipwreck.