History
The wreck is situated in an anchorage bay at the island of Krogen that was used historically as natural harbour due to its sheltered nature, being accessibly only from the south-east. The wreck was identified as the Swedish brig MARGARETA, which sunk in 1898 in a storm. The wreck was known to the Swedish authorities at least since the 1990's and was used as training site for several campaigns of the "Krogen Project" for students of the Centre for Maritime Archaeology at the University of Southampton under the lead of Prof. Jon Adams in collaboration with Prof. Johan Rönnby (Södertörns University).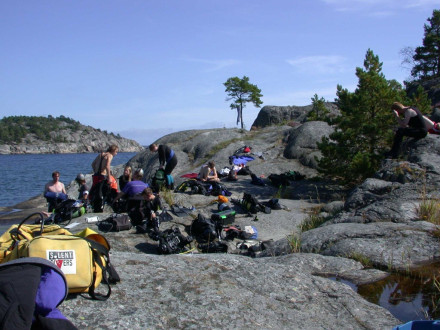 Description
The hull is substantially intact, with much of the deck planking still in place, the anchor cable coiled up on the windlass, and parts of the rigging (like the cross-trees, cf. photo) and spars lying around in the wreck's vicinity.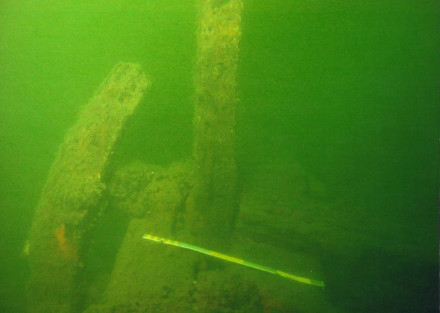 Ian William Barefoot
Ian William Barefoot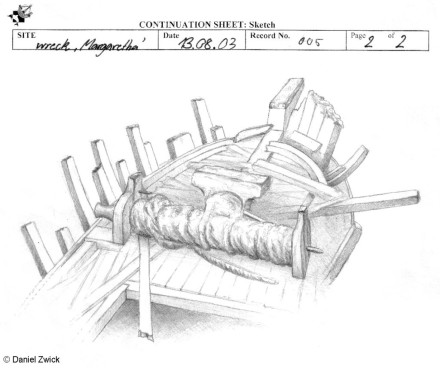 Daniel Zwick
Status
In general, the wreck is extremely well preserved due to the absence of marine borers like teredo navalis. Nevertheless, long-term observations on the wrecksite formation made possible by the abovementioned fieldschool indicate a gradual decay. For instance, in 2003 it was noted that the bowsprit has come off, which was still in place in previous campaigns.
References