History
It was found in 1907 4.7 km from the coast. Several dive expeditions were untertaken to lift artefacts between 1907 and 1913. In 1948 Philippe Tailliez und Jacques-Yves Cousteau dived on the wreck. The first extensive excavations were held in 1954-55 bythe Tunesian underengineer Guy de Frondeville. He was the first who mapped and examined the wreck proper. In 1993 maritime archaeologist from Rheinischen Landesmuseum Bonn have documented the present state. The remains of the wreck are deteriorating.
It was presumably driven by a storm onto the north African coast en route from Piraeus, the port of Athens, to Italy, as it was carrying Greek works of art intended for Roman purchasers. The cargo consisted of Greek art object: sculptures of bronze and marble. High-quality furniture fittings and more than 60 marble columns weighing 200 tons. It is believed the cargo was part of the warspoils of the Roman general Sulla. Sulla campaigned against king Mithridates in 86 B.C., and sacked Athens during that war.

Boethos of Chalcedon (2nd century BC)
Greek sculptor and metalworker. His signature occurs on a bronze archaistic herm (Tunis, Mus. N. Bardo) from the Mahdia shipwreck that supported a statue of a winged youth identified as Eros or as Agon, This Boethos was probably also the famous engraver mentioned by Pliny (Natural History XXXIII.lv.155) and Cicero (Against Verres IV.xiv.32), and the sculptor of a bronze group of a Boy Strangling a Goose (Pliny: Natural History XXXIV.xix.84). This work is probably reproduced by various Roman copies, since their light-hearted mood and realistic depiction of soft youthful forms typifies the rococo style of some later Hellenistic sculpture. Child strangling a goose. Luna marble, Roman copy from the Hadrianic period after a Greek original from the 2nd century BC. Palazzo Altemps (Museo Nazionale Romano), Rome, Italy. Attributed to Boethos of Chalcedon.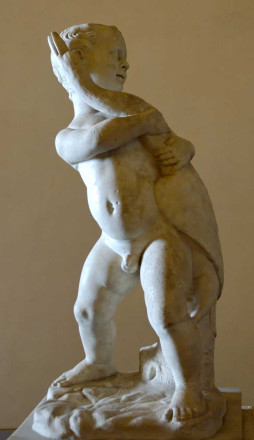 Description
A Roman or Greek merchant vessel. Maybe a corbita.
Length approx: 40 m.
Width approx: 14 m.
Ca. 230 tons.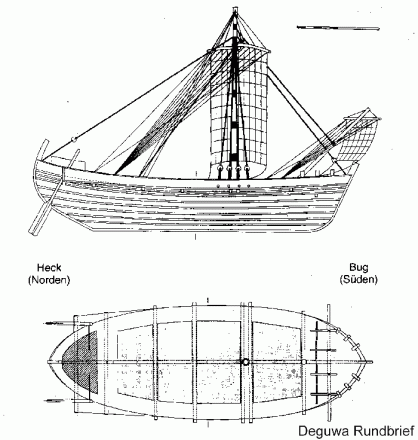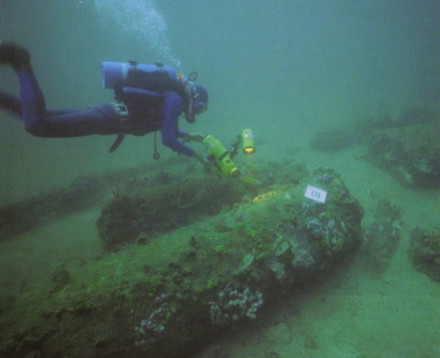 References
Hellenkemper Salies, G.; Prittzwitz und Gaffron, H.-H.; Bauchhenß, G. (Hrsg.) (1994).
Das Wrack. Der antike Schiffsfund von Mahdia.
Katalog des Rheinischen Landesmuseums Bonn, 2 Bd.
Köln.
Hellenkemper-Salies, G. u.a. Neue Forschungen zum Schiffsfund von Mahdia. Sonderdruck aus Bonner Jahrbücher 196, 1996.