History
Het fluitschip Koning David werd waarschijnlijk aangekocht door de VOC kamer Amsterdam in 1645/46. Ze vertrok naar Azië op 6 april 1646. Ze maakte twee succesvolle retoureizen. Na haar derde uitreis (7-12-1654) bleef ze in Azië.
Arakan
Het schip vertrok 20 april 1661 met een lading rijst en slaven uit Arrakan. De in Arrakan gekochte tot slaaf gemaakten waren over het algemeen bij gerichte acties buit gemaakt in de Ganges-delta in het huidige Bengalen. In de VOC-bronnen worden tot slaafgemaakten behalve als slaven ook regelmatig als lijfeigenen aangeduid. De VOC had een kantoor in dat gebied dat voornamelijk voor de mensenhandel was bedoeld.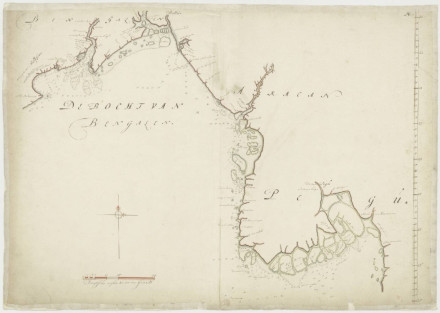 NL-HaNA_4.VEL_257

Vergaan
De Koning David was ter hoogte van de golf van Martaban toen een storm losbarste en de fluit de golf indreef richting de kust. Daar verongelukte de fluit. Bij het vergaan van het schip kwam één bemanningslid om en 54 van de71 slaven aan boord.

Zwerftocht
De schipper en nog 8 andere opvarenden stierven bij de omzwervingen in het grensgebied tussen het huidige Thailand en Myanmar. Merkwaardig is dat de 17 slaafgemaakten kennelijk ook de gehele zwerftocht meemaakten. De overlevenden (31
Nederlanders en 17 slaven) kwamen uiteindelijk bij de VOC loge (opperhoofd Jan van Rijck) in de toenmalige Thaise hoofdstad Ayuthaya terecht en vandaar uiteindelijk eind 1662 in Batavia inclusief de slaven.*
Locatie
Het is onduidelijk of de fluit in volle zee (1 1/2 toenmalige Hollandse mijl uit de kust) zonk of daar strandde zoals van Rijck rapporteerde.


Description
Bewapening: eind 1655 was de Koning David in Taiwan. Ze liet daar 4 kannonen achter om fort Zeelandia te versterken. Ze had toen nog 18 kanonnen aan boord. Ze was dus oorspronkelijk bewapend met 22 stukken
Rijksmuseum Amsterdam
Type fluit
Een straatvaarder was een type fluit bedoelt voor handel in de mediterannee. Omdat dat gebied vaak onveilig was waren deze schepen zwaar bewapend. Noordvaarders of houthalers die op Scandinavie voeren waren daarentegen zelden bewapend maar waren net als de Koning David uitgerust met een laadpoort om houten balken (masten e.d.) te kunnen laden. De Koning David had beide een laadpoort en een redelijk zware bewapening.
Tonnage: Bij de utitreding in Nederland wordt 100 last vermeld. Eenmaal in Azie is het laadvermogen veel hoger. In Arakan had de Koning David alleen al 271 last rijst aan boord.
Status
References