History
The keel for the Netherlands Royal Navy submarine O 22 was laid in 1937 at the Royal Schelde Company's wharf in Flushing. Three years later, on the eve of the German attack on the Netherlands, the ship was launched.
When the attack came, on May 10, 1940, the ship was not yet fully completed and therefore made its escape to the United Kingdom. As there was barely any time for preparations, the crew had to rely on old German fishery maps obtained from a Groningen skipper to find their way.
Nevertheless, O 22 reached its destination and operated from the UK for several months. From Dundee, the submarine carried out several patrols of the Norwegian coast, but did not succeed in sinking any enemy ships.
On November 5, 1940, O 22 departed for her fifth patrol with 42 Dutch and three British sailors on board, and was never seen again.
Discovery
In August 1993, a survey vessel of the Norwegian Petroleum Directorate located a wreck. 40 miles southwest of the Norwegian coast and at a water depth of about 180 m. An inspection using a remotely operated vehicle revealed that it was the wreck of the O 22. The ship was found very much intact, suggesting that technical difficulties were responsible for the loss.
On November 2, 1996, a ceremony was held at the location of the O 22 wreck, in remembrance of the sailors who lost their lives.
Description
O 22 was a Dutch submarine, O 21 class. Royal Netherlands Navy. It was originally intended as K XXII for service in Dutch East Indies, but was renamed Hr.Ms. O 22. It was built in 1937–January 1940, at the Vlissingse scheepswerf Koninklijke Maatschappij de Schelde.
Length: 77.7 m
Width: 6.5 m
Armament: 8 x 21" torpedoes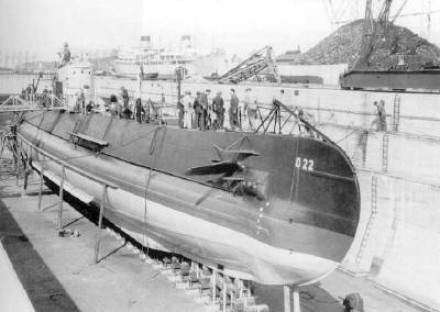 Status
The wreck of the O 22 is a designated war grave. Although this is never a guarantee against illegal salvage operations, the great depth at which the wreck lies offers some protection.
References
Hr. Ms. O-22.De onderzeeboot die in 1940 verloren ging en in 1993 werd teruggevonden, Van Soeren & Co, Amsterdam.