History
Originally an English vessel in line of the East India Company, the Hondt was captured near Patina on the 26th of July of the year 1619 by a VOC squadron led by Hendrik Janszoon.
Once it was sailing under the flag of the VOC and taken to Jacatra, it turned out to be in bad condition. In 1620, it was therefore sent from Jacatra to Ambon where it was repaired and redoubled (doubling of the hull in order to delay decay by shipworm-infestations). In 1621 it was used to sail to Mindanao. In 1622, it was supposed to sail in the company of the Hondt from the Moluccas to Cabo Spirito Sancto and from there to the coasts of China, though both the Hondt and the Maen never managed to get that far as the ships were leaking to such an extent that the ships had to make a stop at Hirado, Japan.
While at their anchors in Kawachi bay, 1 km south of the Dutch trading post at Hirado, the vessels met with a great storm, somewhere between the 9th and the 19th of September that same year. The Maen yet again sprung a leak while the Hondt seemed to have burst entirely (Cocks 1883, p.336; Savenije, n.d.). Both ships were condemned and scrapped at Kawachi (Mulder 1985 p. 276).
Hirado
Hirado is a small fishing village situated in the south west of Japan, in the north western part of Kyushu. In the year 1609 the Dutch had established a trading post in Hirado. The port of Hirado was the centre for foreign trade in Japan until Japan closed most of its borders for the outside world in 1641. All Portuguese merchants, Jesuits and their Japanese following were banned from the country, while only the Dutch and Chinese merchants were allowed to continue their trade with Japan through the port of Nagasaki, until Japan reopened its doors to the the outside world in 1853.
Description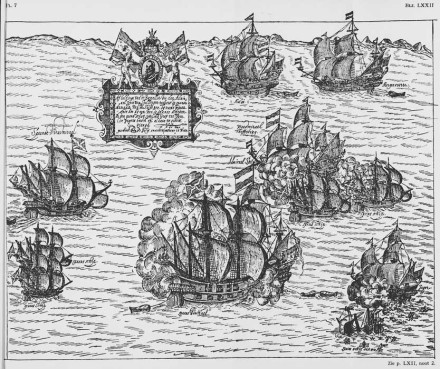 VOC schepen in gevecht met een Spaans schip links onder is een jacht afgebeeld.(1615)
References
Mulder W.Z. (1985).
Hollanders in Hirado, 1597-1641.
Haarlem : Fibula-Van Dishoeck,