History
Prince George served with the Channel Fleet until 1904, at which point she was assigned to the Atlantic Fleet. In 1907, she was assigned to serve with the Home Fleet, and in 1912, Prince George was assigned to the 7th Battle Squadron.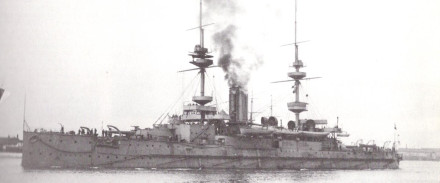 Prince George was still assigned to the 7th Battle Squadron when the First World War broke out. Early in the war, the 7th was attached to the Channel Fleet, but in 1915, the squadron, along with Prince George, was sent to the Mediterranean to participate in the Dardanelles Campaign. As part of this campaign, Prince George bombarded Turkish forts and supported operations at Gallipoli, including the evacuation of the peninsula. After the evacuation of Gallipoli, virtually ending the naval Dardanelles Campaign, Prince George spent the remainder of the war in the UK. She initially served as an accomodation ship, but then was converted to a depot ship for destroyers in 1918. She served this position for about a year, during which her name was changed to Victorious II. Her name reverted to Prince George at the end of this period.
She was transferred to Sheerness in 1919, and was placed on the disposal list there on 21 February, 1920. Over a year later, she was sold to a British firm for scrap, but was then resold to a German firm in December, 1921.
During the voyage to Germany for scrapping, Prince George ran aground during a storm and wrecked on 30 December, 1921, on the main beach of Camperduin in the Netherlands.
Description
Majestic-class battleship
Launched: 22 August, 1895
Decomissioned: 21 February, 1920
Built: Portsmouth Dockyard
Displacement: 16,060 tons
Length: 421 feet
Beam: 75 feet
Draft: 27 feet
Propulsion: 2 3-cylinder steam engines
Armament: 52 guns; 5 torpedo tubes
Armor: 2.5 to 14 inches thick, depending on location
HMS Prince George was a pre-dreadnought battleship. The Majestic-class had nine completed ships, making it the largest class of battleships in history. Before the Majestic-class, naval ships were developed quite chaotically. The British standardized their warship design with the Majestic-class, and this design was copied by dozens of ships in navies all over the world.
Status
Prince George wrecked on the main beach of Camperduin, so near the shore she could be clearly seen rising out of the water. She was soon stripped of all valuable materials, and left to serve as a breakwater.
The wreck of Prince George has been under the control of a Dutch water management agency since her sinking. The wreck was a popular site for photographs by visitors to the beach, but in 2014 it was announced that the wreck would be covered with sand as part of a shore strengthening project.
The sand-filling process of this project was completed in July, 2014, and the wreck of Prince George can no longer be seen from the beach in Camperduin.