History
The HMS Guardian set off from Spithead for Australia carrying convicts and consumer goods under Captain Edward Riou. She rounded the Cape in November heading 44 degrees south far from land. During which the crew spotted an iceberg, Riou sent boats to collect ice to replenish his water supplies. Before he could complete the re-provisioning, a sudden change in the weather obscured the iceberg, and Guardian collided with it while trying to pull away. She was badly damaged and in immediate danger of sinking.
Water poured into the ship but, by pumping and throwing cargo and livestock overboard, she remained afloat. During the night sails were torn to shreds in the gale which had sprung up. Many of the officers, seamen and convicts, believing the ship would sink at any moment, broke into the liquor store and became hopelessly drunk.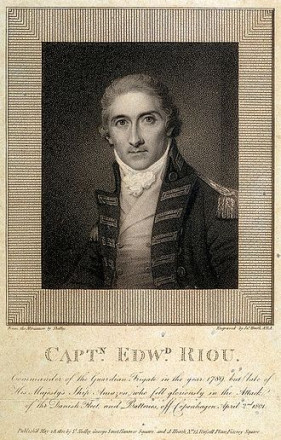 The water rushed in through the night and Riou ordered after the convicts and officers begged, to let the boats go, Riou stayed behind with a few convicts and others. 1 boat got saved by a French ship with the others not being heard of again.
The water eventually stopped coming through; seeing they had achieved flotation Riou and the crew set off for Cape town battling high seas and ship that was extremely fragile. For nine weeks Riou and his small crew navigated Guardian, by now little more than a raft, 1,900 km to the Cape of Good Hope. The Cape was sighted on 21 February 1790, and whalers in Table Bay dispatched seven boats to help Guardian to safety.
Riou sent a letter explaining he wanted to beach the Guardian at Saldanha at retrieve what he could. He also explained he wanted to give a few convicts a pardon as they helped along the journey.
Eventually a gale beached her in Table Bay which was dismantled and sold off.
Description
| | |
| --- | --- |
| Master | Edward Riou |
| People on board | 300 |
| Length | 140 feet (42.7 m) |
| Beam | 38 feet (11.6 m) |
| Tonnage | 910 ton (455 last) |