History
The HMS E3 was one of the first E-class submarines to be constructed. With unprecedented compartmentalization and endurance, the E-class submarine was the best in the Royal Navy at the start of World War I.
On 18 October 1914, whilst on patrol off Borkum in the North Sea, E3 spotted some German destroyers ahead, but could not get into a good attack position. Unable to pass the vessels, commander Cholmney retreated to the bay of Borkum to wait for them to disperse, not knowing that the bay was also occupied by the German submarine U-27.
U-27 closed in on E3 and fired two torpedoes, hitting the English submarine. Fearing the presence of other English submarines in the area, U-27 quickly dived and withdrew. When it returned 30 minutes later to collect evidence of the incident and possible survivors, it became clear that E3 and all of its 28 crew members were lost. It was the first-ever successful attack by a submarine on another.
Description
The HMS E3 was an E-class submarine built at the Vickers shipyard in Barrow-in-Furness. It was laid down in April 1911 and launched in October 1912. The vessel's displacement was 676 tons surfaced and 809 tons submerged. It had four 460-millimetre torpedo tubes.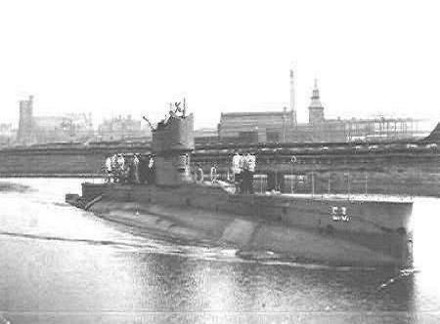 | | |
| --- | --- |
| Master | Cholmney |
| People on board | 28 |
| Length | 177.2 feet (54 m) |
| Beam | 15.1 feet (4.6 m) |
Status