History
The HMS Apollo was commisioned during the the French Revolutionary Wars. In 1799 she was cruising before the Dutch coast to capture enemy ships in Dutch waters. Holland was at that time allied with France as The Batavian Republic. And as such in war with Brittain.
Final Fate
On 6th January a possible prey came to view and the Apollo gave chase. In the process she ran aground the next morning on thge the Noorderhaaks adjacent to the island Texel (NH).
Captaint ordered that the stores and guns be thrown overboard in order to lighten the vessel. but despite these efforts she remained stuck in the sandbank.
In the afternoon, a Prussian galliot came at the wreckscene. After some negotiation, the Prussian captain agreed to jettison the bulk of his cargo and take 250 of Apollo's crew on board and bring them to England.
The remaining crew members went aboard Apollo's cutter with plans to make their own way to the UK. By 9pm all crew members had left the ship, which sank in to the sand.
The Prussian ship reached Yarmouth on 11 January, followed three days later by the cutter.
Description
Type: Fregat Artois classe 5th rate
Built: Perry & Hankey, Blackwall, UK 1793 - 1794
Armament:

Upper Gun Deck 28 x 18 Pounder
Quarterdeck 12 x 32 Pound Carronade*
Quarterdeck 2 x9 Pounder
Forecastle 2 x 32 Pound Carronade
Forecastle 2 x 9 Pounder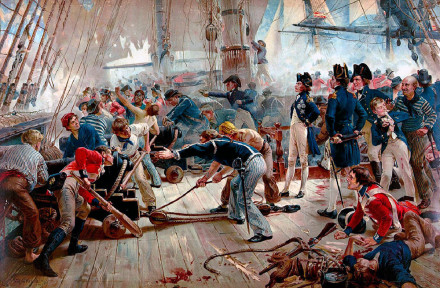 *For carronade see HMS Braak
| | |
| --- | --- |
| Master | Halkett, P. |
| People on board | 270 |
| Length | 146.3 feet (44.6 m) |
| Width | 39 feet (11.9 m) |
| Draft | 13.7 feet (4.2 m) |
Status
Due to erosion, the HMS Apollo has become free in recent years. Last summer (2020), the wreck, which is located at a depth of 7 meters, and the seabed around the wreck were studied using sonar images and diving research. Periplus Archeomare carried out the sonar research on behalf of the Cultural Heritage Agency of the Netherlands.
The diving work was carried out by the NorthSeaDivers from Breezand, supported by the municipality of Texel, museum Kaap Skil and the province of Noord-Holland. (source: province of North Holland)
Special find Many of the cannons that were thrown overboard have been recovered and military equipment belonging to the Marines has emerged, including 2 leather cartridge box.
These boxes hung from the hip with a belt. The bag had room for a hardwood cartridge holder for 18 cartridges. The cartridges consisted of a roll of paper filled with gunpowder and a round lead musket bullet.
The leather sheath of the bags has a flip flap with the coat of arms of the English king George III () in gold print.
References