History
HMS Anson left Falmouth on Christmas Eve, to join the patrols blockading the French Channel ports. But on running into a gale turned back to seek shelter. When it was realised the land ahead was The Lizard – not Falmouth, the Captain (Lydiard) tried to sail his vessel out of the trap it was now in, but continued to be blown towards the shore. When the anchors failed to hold an attempt was made to run the Anson ashore – unfortunately hitting one of many rocky reefs and going broadside 100 metres away from the shoreline. Anson ground to a mast-snapping halt broadside to the shore. The mainmast toppled onto the beach and made a bridge, and some men escaped across it. Lydiard, however, died in the surf on the beach – as did 190 out of the 330 men aboard.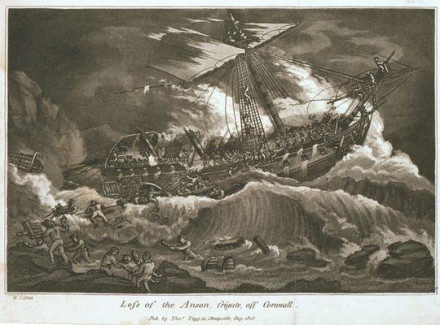 Rocket Lifeline
Henry Trengrouse of Helston witnessed the stranding of the Anson. He was so shocked by seeing sailors die only feet from safety that he determined that people watching from the shore should be able to offer more help. Later that year, he invented the musket-fired rocket lifeline, the forerunner of the rocket apparatus of today. It fired a rope to stricken ships on the rocks and enabled the crew to be taken off. This picture shows the rocket launching device which carried that all-important first line to a stricken vessel to enable the buoy to be set up to save a great many distressed folks over the years. The four-wheeled apparatus carrier initially required its cart to be horse-drawn to locations plus then the inevitable manoeuvring into a suitable position by a fit crew. That 'Breeches Buoy' which would be hauled to and from a vessel can be seen held by the chap at the lower left of the pic.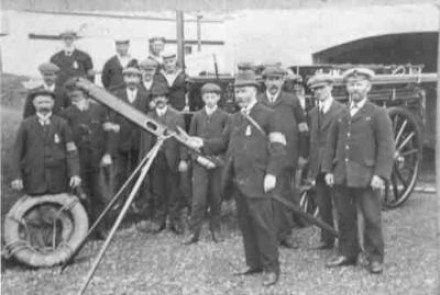 Description
The Anson was originally a 64-gun third rate launched in 1781, cut down around 1794 to a large frigate of 44 guns.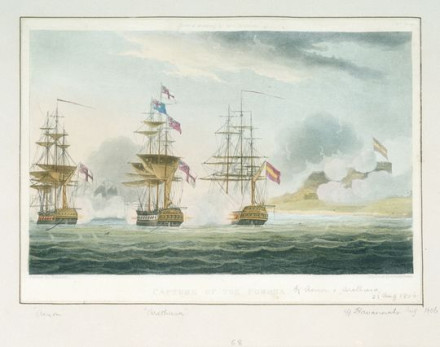 Status
Cannon and carronades from the Anson are still there for divers to see today – just 100 metres off the beach and slightly west of the central point of Loe Bar.