History
Construction and requisitioning
As a result of the Titanic disaster in 1912, major improvements were introduced in the design of the sister ship Britannic, for which the keel had already been laid in 1911. Before the ship could be completed and commence its intended transatlantic service, World War I brokeout, and work on Britannic was slowed down.
When military operations were extended to the Eastern Mediterranean, the need for larger ships grew critically, andBritannic was prepared for emergency entrance into service. In November 1915, the ship was requisitioned as a hospital ship, and placed under the command of Captain Charles A. Bartlett (1868-1945).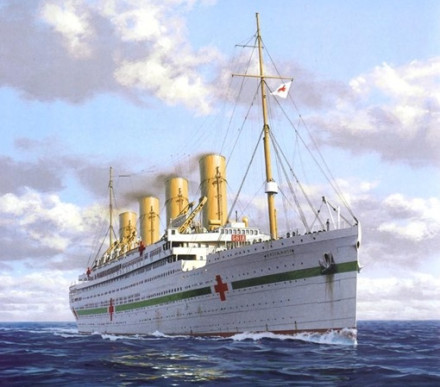 Sinking
After five successful return voyages to the Middle East transporting sick and wounded soldiers, HMHS Britannic departed for Lemnos, Greece on November 12, 1916. Nine days later, the ship with 1066 people on board had almost reached her destination, as she was steaming at full speed near the island of Kea. Suddenly she was shaken by a loud explosion, probably caused by a torpedo or an underwater mine, and compartments of the ship started to fill with water rapidly.
The increased safety measures, compared to the design of Titanic, would not suffice to keep the ship afloat. However, in contrast to the Titanic disaster, the survivor count (1036) was in this case relatively high, owing to the higher temperature, the increased number of lifeboats, and a quicker reaction to the distress call.
Description
Class: Olympic-class oceanliner/ Hospital ship
Laid down: November 1911
Launched: February 1914
Shipyard: Harland and Wolff, Belfast
Length: 269.1 m
Beam: 28.7 m
Draught: 10.5 m
Displacement: 53,200 tons
Decks: 9
Britannic was the largest of the Olympic-class ocean liners of the White Star Line, and sister ship of RMS Titanic. Originally built as a transatlantic passenger liner, she was converted to serve as a hospital ship in 1915. She was sunk 21 November, 1916.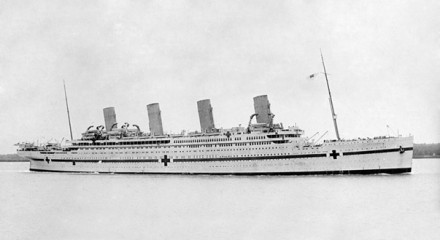 Status
Shipwreck
The wreck of HMHS Britannic was first discovered and explored by Jacques Cousteau in 1975, at a depth of around 122 m, and is in remarkable condition. Many film crews and researchers have visited the wreck site since, yet the exact cause of the explosion has remained unclear.