History
The Hilma Hooker is a ship that experienced a turbulent history in her three decades of service. Originally named the Midsland, she was built at the Van der Giessen de Noord shipyard in the Netherlands for the Scheepvaart en Steenkolen Mij. N.V. and launched on May 21, 1951. She was renamed the Mistral in 1964 when she was sold to Caribbean Association Traders of Panama. Three years later, she was sold to the Bahamas Line and renamed again, this time to William Express. She sank off Samaná in the Dominican Republic in 1975, after which she was refloated and sold to Benjamin Catrone and renamed Anna C. Just a year later she was sold again to Seacoast Shipping Corp. of Panama and renamed Doric Express. In 1979 she was sold one last time to the San Andrés Shipping Line of Colombia and renamed Hilma Hooker.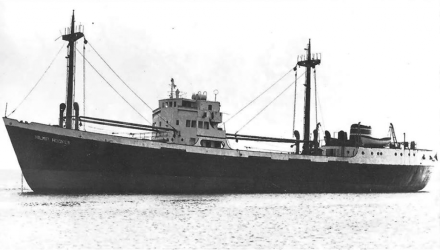 During the summer of 1984, the Hilma Hooker sailed from Barranquilla and was towed to the port of Kralendijk in Bonaire after reporting engine problems at sea. She was already under surveillance by drug enforcement agencies. Local authorities were wary of its intentions as the captain could not provide a clear reason for sailing near Bonaire, and the harbour master and Bonairean shipping agencies were not aware of its intended arrival. While docked in Bonaire's harbour, authorities boarded the vessel and found 11,000 kilograms of marihuana stored in a false bulkhead. Captain and crew were detained while the Bonairean authorities searched for the vessel's owners, who were never found.
The ship languished under detention as evidence for many months and through general neglect of her hull she began to take on water so severely that the bilge pumps could only just keep up. It was feared that she would sink at the dock and disrupt marine traffic. Meanwhile, the local dive operators had taken an interest in the vessel as a potential new wreck dive, and started lobbying for the ship to be cleaned up and sunk as a diver attraction. On September 7, 1984, she was towed to the southern part of the island and anchored at a dive site called Angel City. During the next few days, she continued to take on water and developed a list. On September 12, the list was so severe that the Hilma Hooker started to take in water through her lower portholes, which had been left open. At 9:08 in the morning she rolled over on her starboard side and sank within two minutes.
The Hilma Hooker came to rest on her starboard side on a 30-metre-deep sandy plateau between two coral reefs at the Angel City dive site. The top of the wreck is at 18 meters. The wreck is almost completely intact and in a good state of preservation. The cargo holds are easily accessible through large openings, and more advanced penetration is possible as well. The wreck is overgrown by a variety of corals and sponges, and home to many different species of fish. The Hilma Hooker is now one of the most popular dive sites on Bonaire, being visited by dozens of divers per day.
Description
| | |
| --- | --- |
| Length | 235 feet (71.6 m) |
| Width | 36 feet (11 m) |
| Draft | 12 feet (3.7 m) |
| Tonnage | 1027 ton |