History
In autumn 2019 the wreck was discovered by a dredging company commissioned with the maintenance of the fairway in the Elbe River opposite the Wedel fluvial terrace. It was the wreck of the Hamburg-based mooring boat HIEV IN (High German for "haul in").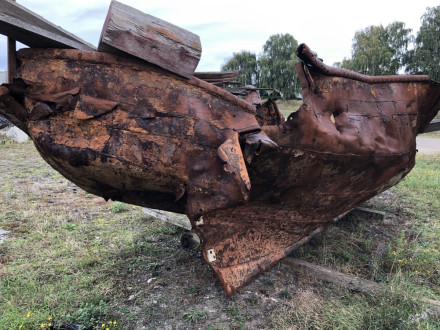 Wasser-und Schifffahrtsamt Elbe-Nordsee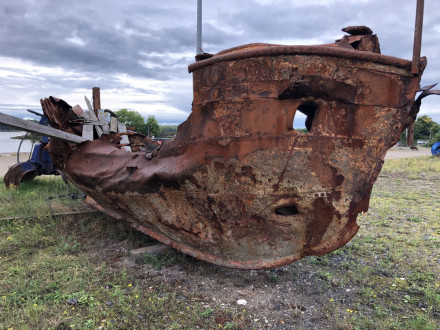 Wasser-und Schifffahrtsamt Elbe-Nordsee

How and where exactly HIEV IN sank is not documented. It is presumed that the vessel filled up with water in heavy weather and sank. All crew members were rescued. The vessel was on its way to Stade-Bützfleth. The time of sinking has not been recorded, but it must have been sometime between the date of commissioning (1958) and the launch of a follow-up vessel under the name of HIEV IN (1964).
Description
Mooring boats aided the docking manoeuvre of large ships by taking over massive hawsers on the ship's side to take them to the quayside, where they are fastened to bollards. The skipper can coordinate the manoeuvre by his own effort and windlasses. The occupation of 'moorer' is considered one of the most dangerous professions in the port still today. The handling of heavy hawsers and the vortices caused by ship's propeller bear considerable risks.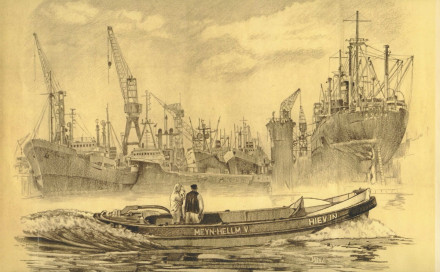 Hafenmuseum Hamburg
HIEV IN was built in 1958 by Hamburg's long-standing shipyard Albert Bonné (later renamed: Zehbe‑Werft) in Wilhelmsburg at Vogelhüttendeich. After the currency reform, the shipyard gained a good reputation with the mooring company Max Meyn and others. Due to the hull shape and sturdy construction, the vessel was operated during winters with ice drift, and thus rendered an indispensable service in the harbour. The first engine of HIEV IN had 38 hp, which was later replaced by a 70 hp Hanomag-engine of a type also regularly used in farm and crawler tractors. Fragments of the engine are still preserved.
| | |
| --- | --- |
| Power | 70 hp |
| Length | 25.6 feet (7.8 m) |
| Beam | 8.2 feet (2.5 m) |
| Displacement | 8 ton |
Status
The wreck is in the property of the Water and Shipping Authority responsible for the Elbe river (Wasser-und Schifffahrtsamt Elbe-Nordsee) and is currently exhibited on the open-air premises of the Port Museum.
References