History
HEINRICH MOLL was a Swedish brig that stranded near Staberhuk lighthouse off the south-eastern tip of the island of Fehmarn on 15th September 1903.
She was built in Rostock on the shipyard of W. Zeltz in 1867 who operated the vessel for a couple of years before selling her in 1880 to August Burchard. In 1893, the vessel was sold to Sweden. Her last owner was captain Andersson from Haferö. The ship was never renamed.
After having discharged a cargo of coal from England in Burgstaaken (Fehmarn), HEINRICH MOLL was now set to sail to Skellefteå in Sweden. The pilot Fritz Schwenn assisted in navigating the vessel outsite of the harbour area at north-easterly winds on the fateful day. Later that day, the winds increased to a gale and captain Andersson's ship was driven onto the leeshore after a failed gybe. The crew and her captain disembarked and reached the land in their dinghy, and in the early morning on the next day the soaked captain knocked at the pilot's door to ask for dry clothing.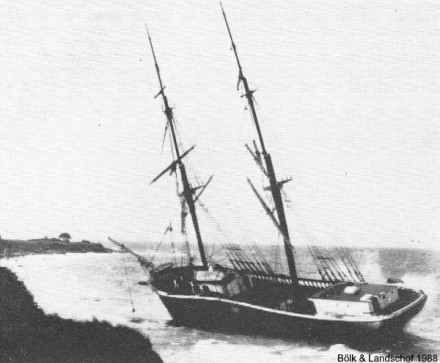 A day later, the steamer RÜGEN appeared at the shipwreck site to tow HEINRICH MOLL off the coast, but it was too late, as the vessel was too heavily damaged.
The salvage rights were sold to a consortium of 8 Fehmarners for 200 Marks. Although the property rights on the wreck were now lawfully regulated, parts of the wreck nevertheless disappeared, as the coastal population practised the ancient custom of wrecking abandoned vessels.
Description
The last remains of the wreck were blown up by pioneers in 1904 as a practice excercise.
| | |
| --- | --- |
| Master | Andersson |
| People on board | 7 |
| Tonnage | 257 ton |
References
Bölk, W., Landschof, E. (1988).
Schiffe in Not: Strandungen und Seeunfälle um Fehmarn 1857-1987.
Rendsburg: Verlag Heinrich Möller Söhne GmbH & Co. KG.