History
Discovery
In the 1960's and 1970's divers from the Tyneside 113 British Sub Aqua Club discovered and investigated a large number of cannon in about 6-9 m of water at Gun Rocks, Farne Islands. The rumor spread, and the first reports of cannon and cannonballs being lifted from the site appeared. The Gun Rocks wreck, as it was named, was first thought to have been an Armada ship, wrecked when the Spanish fleet was driven up the North Sea coast, but recent research has shown otherwise
Research
In 2013, the wreck site was revisited by divers of English Heritage and Wessex Archaeology with help from the group who had originally discovered the site. The site was found to be comprised of 19 cannon. Initial investigations suggest the guns are eight and six pounders manufactured in Sweden between 1670 and 1710, probably for Dutch use.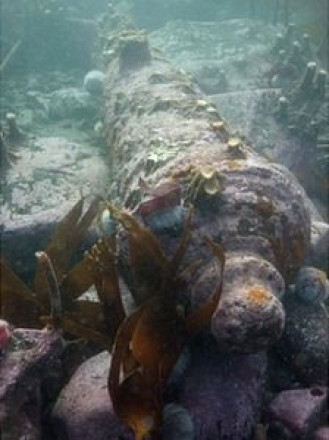 Although research of the wreck is still in a very early stage, it is believed to be what remains of a cargo vessel, probably Dutch, datable to around 1650 to 1715. An identity for the ship has not yet been established to any degree of certainty. However, one candidate may be the Dutch frigate of 40 guns which reportedly foundered after grounding among the Farne Islands opposite Bamburgh Castle in 1704, according to the castle's records.
Description
Type: Armed merchantman
Associated with: Dutch Republic
Status
Condition: (Partly) preserved in situ, published archaeological documentation not available
Heritage status: Legally protected
Involved institutions: English Heritage, Wessex Archaeology
The 2013 investigations were part of an English Heritage project, aimed at giving the most important wreck sites protected status, and carried out on the 40th anniversary of the Protection of Wrecks Act. The Gun Rocks Wreck is now officially listed as an historic monument.