Description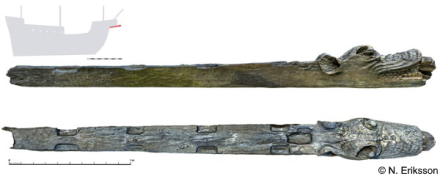 | | |
| --- | --- |
| Length | 114.8 feet (35 m) |
| Beam | 24.6 feet (7.5 m) |
References
Riksantikvarieämbetet (Swedish National Heritage Authority).
L1978:2168 Fartygs-/båtlämning.
Eriksson, N. (2016).
Gribshunden (1495): vraket efter ett medeltida kravellskepp.
Marinarkeologisk tidskrift 1, 4-10.
Eriksson, N. (2019).
Vraket efter Gribshunden (c. 1483-1495) – ett unikt exempel på medeltida skeppsarkitektur.
Forum Navale 75, pp. 80-91.
Eriksson, N. (2019).
Gribshunden – det sista drakskeppet?.
Gränsløs, 10, pp. 11-27.
Eriksson, N. (2020).
Figureheads and Symbolism Between the Medieval and the Modern: The ship Griffin or Gribshunden, one of the last Sea Serpents?.
The Mariner's Mirror 106.3, pp. 262-276.