History
The Gouden Leeuw was the flagship of admiral Cornelis Tromp (1629-1691), son of Maarten Tromp. It fought numerous battles for the Dutch Republic.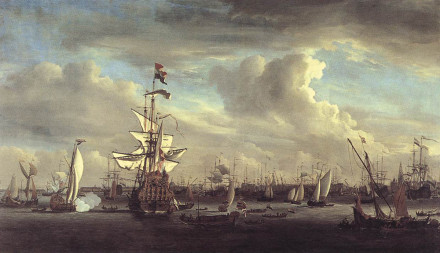 On the above painting, the Gouden Leeuw is being honored before leaving active service. During the third Dutch–anglo war, Gouden Leeuw was active in the Battle of Schooneveld in 1673 and the battle of Kijkduin also in 1673.
Tromp commanded the Gouden Leeuw but was at the time under command of Michiel De Ruyter who was on the Zeven Provinciën.
Description
Type: Ship of the line
Built : 1655 for the admiralty of Amsterdam
Designer: Jan van Rheenen
| | |
| --- | --- |
| Length | 178 feet (54.3 m) |
| Width | 43.6 feet (13.3 m) |
| Draft | 16.6 feet (5.1 m) |
Status
References