History
Crossing the Atlantic the Gouden Buis arrived in the deserted St. Helena Bay in South Africa. It arrived after months at sea with crew sick and dead from scurvy. Captain Baauman, who was bed ridden knew they could not reach Cape town in this condition and ordered seven men, who were still strong enough, to go ashore and seek help. These 7 men were Laurens Thysz, Jacob Lepie, Jan Christiaansz, Daniel Sillerman, Flip Warlo, Jan Harder and the commander of the soldiers. Given very little provisions they set off. With sickness and exhaustion in the wilderness five of them died during their mission. Laurens Thyz survived. Laurens was fortunate enough to meet KhoiKhoi people who took him to Saldanha. Soon after, a message was delivered at the Cape Castle that there was a ship in need of assistance.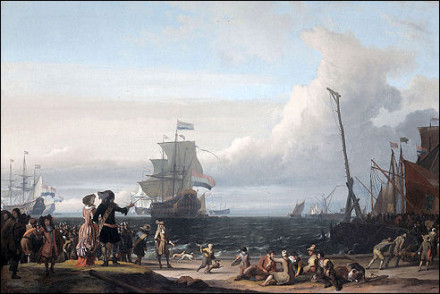 Governor Simon van der Stel ordered a large salvage operation. Four ships sailed to the St. Helena Bay. On arrival, Daniël Silleman, the other survivor of the seven men, was rescued from the beach. The salvage ship De Dageraat departed with the seventeen treasure chests and with Silleman to the Cape, but also shipwrecked at Robben Eiland. Silleman survived this tragedy by swimming to shore. Back at the castle he met Laurens Thysz. They were the only two survivors with over 200 men dead and two ships on the sea floor. Back in Holland, Silleman told his story to a publisher in Enkhuizen. The journey of the De Gouden Buys and the story of Daniël Silleman were already published in 1695 and became a popular storybook already at that time. Only a few copies of the book are know worldwide today.
Description
Type of ship
Built: Yard Enkhuizen, 1692
Owner: Chamber Enkhuizen
Lengte: 130 voet
Complement: 190
Master: Baanman, Teunis Kornelisz.
References
DAS 1665.1.
Huygens ING.
Gessel, M., A. Kieskamp en P. Boon (1995).
Ongeluckig, of droevigh verhaal van 't schip de Gouden Buys, 1695: een Enkhuizer VOC-schip strandt bij zuidelijk Afrika.
Amsterdam: Terra Incognita.