History
The Goeree took part in at least two major WIC expeditions aimed to intercept and conquer the Spanish treasure fleet near Havana, Cuba.
On 30 August 1638 a naval battle was fought was fought near the the west coast of Cuba around Organos, between a part of the Spanish Tierra Firme fleet under the command of Carlos de Ibarra and a WIC fleet under command of Admiral Cornelis Jol.
While the Admiral, Vice Admiral and Rear Admiral engaged the bigger Spanish galleons, the rest of the fleet hesitated. The opportunity was lost and after the battle the captains of three ships , the Zwolle, Overijsel and Goeree were punished and replaced .
The Goeree appears on a list from 1639 mentioning that she was in Brazil and only had supplies left for 3 months. It is not clear what became of the ship but apparently it did not return to the Netherlands.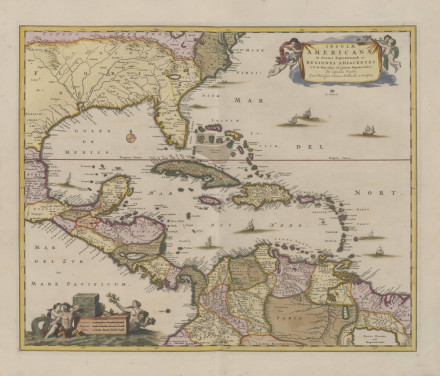 Nationaal Archief
Map of the Caribbean from the volume with Cuba America of the Atlas Maior by J. Blaeu.
Description
Type: frigate
WIC chamber: Amsterdam
Yard: Amsterdam

Armament: 8 bronze, 20 iron cannon
Archive sources:
Nationaal Archief, 1.05.01.01, inv. nr. 57; fo. 185.
Status
It is not clear what became of the ship yet it seems it stayed in the West.