History
The wreck was discovered in spring 1988 during dredging works of the drainage canals in Bøtø Nor, which formed an inlet once, but was reclaimed since 1860. The wreck was excavated under the direction of Dr. Ole Crumlin-Pedersen, while Jan Bill acted as site manager and published the find in his doctoral thesis.
He placed the wreck into the wider context of the coastal maritime trade network of regional shipping operators, linking it to the economic activities of St. Peter's monastery in Næstved to which the village of Gedesby belonged.
As the dendrochronological analysis yielded no match, the wreck was 14C-dated into the last quarter of the 13th century or the first quarter of the 14th century. A macro-botanical analysis shed light on the general area, in which the ship once operated, i.e. the local southern Danish waters around the island of Falster.
Description
In his conclusion, Jan Bill pointed out a paradox in the vessel's construction. On the one hand, the vessel had profane features which indicate a rural and local origin, e.g. with regard to residues of dung from local cattle in the hold, or the general hull shape, which was adapted to the shallow inlet, a natural harbour, in which the vessel was apparently moored. On the other hand, the vessel incorporated some "innovative" Bremen-type features associated with cogs. And cogs are indeed perceived as the embodiment for professionalised maritime trade, frequently used on long-distance trade routes.
While the vessel is entirely clinker built, it marks one of the earliest instances in northern European shipbuilding for the use of saws for making planks. Up to this point, planks were either radially cleft or tangentially hewn with adzes.
| | |
| --- | --- |
| Length | 41.2 feet (12.6 m) |
| Draft | 3.3 feet (1 m) |
| Beam | 16.9 feet (5.2 m) |
| Displacement | 13 ton (7 last) |
Status
The timbers of the Gedesby wreck were conserved with polyethylenglycol (PEG) at the conservation facility of the Danish National Museum.
Based on the wreck documentation, a historical reconstruction named AGNETE was built , which is operated and sailed by the Middelaldercentret in Nykøbing - an open air museum on the Middle Ages.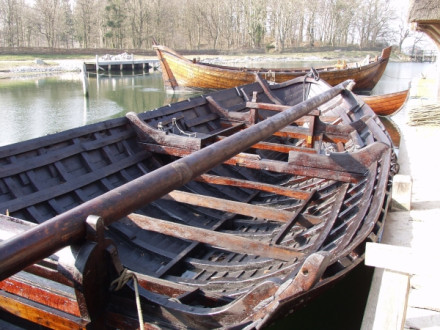 Middelaldercentret Nykøbing
References
Bill, J. (1991).
Gedesbyskibet. Middelalderlig skude- og færgefart fra Falster.
In: O. Olsen (ed.), Nationalmuseets Arbejdsmark, pp. 188-198.
Copenhagen: Nationalmuseet og Poul Kristensens Forlag.
Bill, J. (1997).
Small Scale Seafaring in Danish Waters AD 1000-1600 (= doctoral dissertation).
University of Copenhagen.
Bill, J. & Vinner, M. (1995).
The Gedesby ship under sail.
Maritime Archaeology Newsletter from Roskilde, Denmark 5, 3-8.
Crumlin-Pedersen, O. (1989).
Skibet i Bøtøminde - en falstersk middelalderskude.
Lolland-Falsters Historske Samfunds Årbog 1989, 33-44.
Robinson, D., Aaby, B. (1994).
Pollen and plant macrofossil analyses from the Gedesby ship - a medieval shipwreck from Falster, Denmark.
Vegetation History and Archaeobotany 1994, pp. 167-182.
Middelaldercentret Nykøbing.
Sejlads med middelalderskibet Agnete.