History
Attack on Spanish and Portuguese colonial trade
In 1628, three fleets sailed from the Netherlands to the West Indies to cut of Spanish and Portuguese trade. This happened in the context of the 80 Years' War to aid the war efforts in Europe. A fleet of twelve ships under the command of Simon van Uytgeest was destined to go to Brazil. At least twelve Spanish and Portuguese merchant ships were captured by them.
The second fleet, also consisting of twelve ships led by Admiral Pieter Adriaanszoon Ita left for Cuba.
The third fleet was to depart later that year and was commanded by Piet Hein. The Friese Jager (also spelled Vriesche Jager) was part of the second fleet.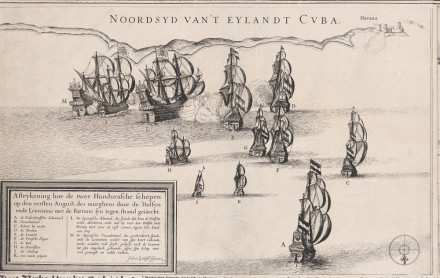 Rijksmuseum
Left part of a print depicting the battle at Cuba, ca. 1629. This part shows Ita's fleet with the names of the ships, consisting of the: Walcheren (admiral), Dolfijn van Amsterdam (vice admiral), Eendracht van Dort (rear admiral), Goede Fortuin (Zeeland WIC Chamber), Leeuwinne (yacht), Friese Jager (Groningen WIC Chamber, yacht), Kater, Noordster and a sloop (Rijksmuseum PR-P-OB-79.403).
Battle off Havana
After capturing a few Portuguese ships, the fleet went after the treasure ships from Honduras, that were bound to arrive near Havana. They found the two galleons, the Nossa Senhora de los Remedios and the S. Jago around 31 July. Ita's fleet managed to keep them from entering the port of Havana and they tried to flee. The Leeuwinne engaged the S. Jago and in this process they both ran aground. Meanwhile, the Fortuin and the Dolfijn chased the other fleeing galleon, which also got stuck on the same sandbank as the first. The two Dutch ships did not want to get stuck as well so they fired from a distance. The Leeuwinne was badly damaged in this encounter and her captain (Jan Pieterszoon) died.
The Kater, Friese Jager and Eendracht engaged the Nossa Senhora, which was abandoned by its crew. Both galleons were taken with heavy casualties on the Spanish side (around 600) and hardly any on the Dutch side (13 dead, 50 wounded). When the battle was won, they needed to leave soon, fearing the arrival of the Spanish Terra Firma fleet. They set fire to the S. Jago and took the Nossa Senhora with them.
After this victory, Ita continued his exploits in the Caribbean. At present, the fate of the Friese Jager is unclear.
See De Laet, part V, p 124-132
Description
WIC chamber: Stad en Lande Groningen
Armament: 2 bronze, 16 iron cannon
References in De Laet:
1628 - captain Jan Braems with 74 men
1629 - captain Claes Hendricksz (140 last; 4 bronze, 18 iron cannon; 90 sailors, 22 soldiers)
1630 - captain Claes Hendricksz (150 last; 6 bronze, 18 iron cannon; 66 sailors, 32 soldiers)
1631 - Yacht de Vriessche Jager
1633 - Vriessche Jager, Groningen chamber, (140 last; 6 bronze, 18 iron cannon; 43 sailors, 47 soldiers)
1634 - 78 soldiers
1636 - Jagher (not Vriessche), (140 last; 6 bronze, 14 iron cannon; 48 sailors; 110 soldiers)
| | |
| --- | --- |
| Master | Jan Braems |
| People on board | 74 |
| Tonnage | 280 ton (140 last) |
References