History
In 1628, three fleets sailed from Holland to the West Indies to cut of Spanish and Portuguese trade. A fleet of twelve ships under the direction of Simon van Uytgeest was destined to go to Brazil. At least twelve Spanish and Portuguese merchant ships were captured.
The second fleet (12 ships) led by Admiral Pieter Adriaanszoon Ita left for Cuba.
The third fleet was to depart later that year and was commanded by Piet Hein. The Vriese Jager was part of the second fleet.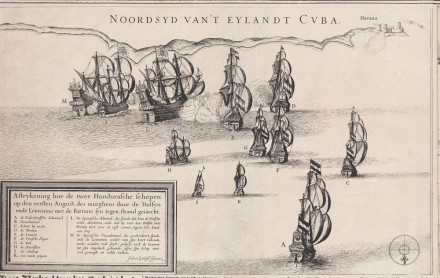 Ita's flotilla consisted of: De Walcheren (admiral), Dolfijn van Amsterdam (vice admiral), Eendracht van Dort (rear admiral), Goede Fortuin (van Zeeland), De Leeuwinne (yacht), De Vriese jager van Groningen (yacht), De Cat en De Noordster.
Description
WIC chamber: Stad en Lande Groningen
Armament: 2 bronze, 16 iron
| | |
| --- | --- |
| Master | Jan Braems |
| People on board | 74 |
| Tonnage | 280 ton (140 last) |
References