History
Historical research
Research undertaken by Australian and Dutch archaeologists over the past several years started with British and French and documents, indicating that a Dutch ship anchored at Christmas Island and ran ashore at night.
Recent research in Dutch archives by the Dutch maritime historian Pablo Boorsma revealed that in April 1724 the skipper of the outgoing Dutch ship Graveland found floating wreckage from the missing Fortuyn in the latitude of the Cocos and the longitude of Christmas Island.
A rare VOC chart of the Indian Ocean
The VOC chart of the Indian ocean made by Abraham Anias (1694-1750), official examiner of the steersmen and chart-maker of the VOC Zeeland Chamber is an important vellum manuscript chart of the Dutch East India Company. The plane chart of the Indian Ocean not only served for the crossing to Sunda Strait, but also for the journey to Ceylon. Approximately 700 miles east of the Cape, the course changed north, as is testified on our chart by faint traces of a plotted track in pencil (of which unfortunately only the number 14 is decipherable, tracks were drawn in pencil and erased later).
Description
The Fortuyn was a Dutch East Indiaman built for the Dutch East India Company (VOC) Amsterdam chamber in 1722.
Armament: 36 cannons and eight swivel guns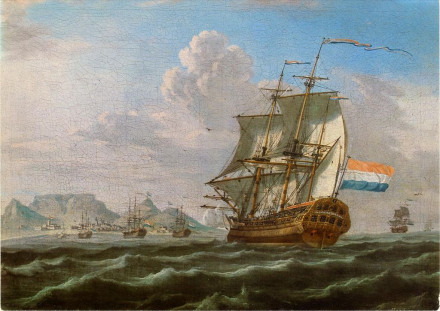 | | |
| --- | --- |
| Master | Pieter Westrik |
| People on board | 225 |
| Length | 145 feet (44.2 m) |
| Tonnage | 800 ton (400 last) |
Status
In 2015 and 2016 a team of Australian shipwreck archaeologists and a student from Indonesia and the Netherlands did research at the suggested locations found in the archives of Christmas Island and the Cocos Keeling Islands.
Team members Graeme Henderson from Perth, Andrew Viduka from Canberra, Alex Moss from Adelaide, James Parkinson from Melbourne, student Shinatria Adhityatama from Indonesia and student Robert de Hoop from the Netherlands conducted magnetometer surveys along targeted coastlines seeking iron objects such as cannon and anchors from the outgoing Dutch ships Fortuyn and Aagtekerke, and several missing homeward bound vessels.
References