History
At 03.17 hours on 11 March 1940 the unescorted and neutral Eulota (Master Barend Elzinga) was hit on starboard side amidships by one G7e torpedo from U-28 while steaming on a non-evasive course at 11 knots in clear weather about 130 miles west of Ushant, France. The explosion broke the back of the tanker and opened a large hole just below the waterline, but she only settled slowly aft with an increasing list to starboard. The U-boat did not wait for the ship to sink before departing the area and left the survivors in doubt about the reason for the explosion.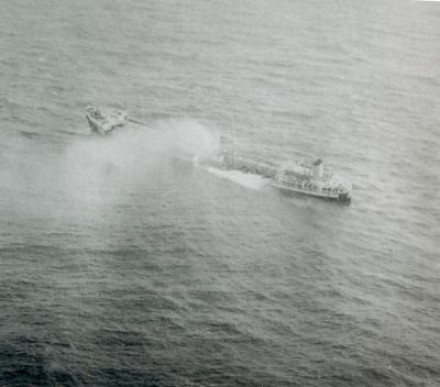 A French patrol aircraft sighted the burning Eulota
The crew of 42 men abandoned ship in three lifeboats after about one hour, remained nearby and reboarded the tanker at dawn in an attempt to right her, but discovered that a fire had broken out amidships and left again at 09.30 hours.
Description
Type Motor tanker
Built: Dok- en Werf Maatschappij Wilton-Feijenoord N.V., Schiedam, 1936
Owner: N.V. Petroleum Maatschappij 'La Corona', The Hague, ZH, NL
Length 1: 130.47 Meters Registered
Beam: 16.57 Meters Registered
Depth: 9.37 Meters Registered
Draught: 7.80 Meters Registered
Motor: Motor, Oil, 4-stroke single-acting
| | |
| --- | --- |
| Master | Elzinga, B. |
| People on board | 42 |
| Speed | 12 knots ~ 14 mph (22 km/h) |
| Tonnage | 6236 ton |
Status
A French patrol aircraft sighted the burning Eulota in the afternoon and the nearby HMS Broke (D 83) (Cdr B.G. Scurfield, RN) and HMS Wild Swan (D 62) (LtCdr J.L. Younghusband, RN) from convoy OG-21 were directed to the tanker, which broke in two in the meantime and only the bow section was still afloat when the destroyers arrived. The latter picked up the survivors, five of them slightly and one severely wounded, while HMS Broke scuttled the wreck by gunfire in 48°38N/08°22W. They were then ordered to hunt the U-boat together with Frondeur and La Capricieuse that had been sent from Brest, but U-28 had long departed the area. The survivors were landed at Plymouth on 12 March.
References
Stichting Maritiem Historische Databank.
EULOTA - ID 2115.
Bezemer, K.W.L. (1986).
Geschiedenis van de Nederlandse Koopvaardij in de Tweede Wereldoorlog.
Elsevier, Amsterdam/Brussel.