History
History of the Wreck Site
The Dunkirk Schooner wreck site was first located 20 miles off the Dunkirk, New York, shoreline of Lake Erie by visual observation in the early 1990's, by members of Northeast Research, LLC, a Massachusetts company involved in locating and salvaging shipwrecks.It wasn't until 2004 that a team was assembled to excavate and document the wreck site.It was at this point that North East Research, LLC, applied for custodianship of the wreck site, which was granted, and archaeological research was begun.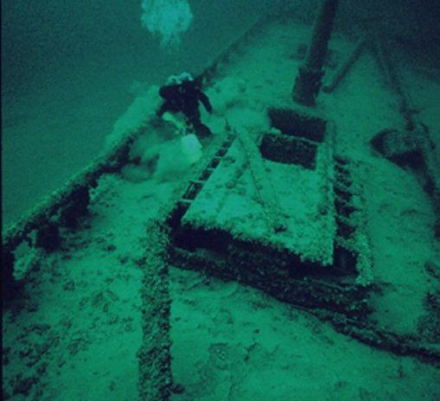 The wrecksite was considered to be 'remarkably pristine and intact' according to a representative of Northeast Research, which was attributed in part to the cold temperatures of it's environment, as the water has not been reported to rise above 37 degrees Fahrenheit.
The archaeological excavation produced many personal items, such as a ring and several compasses, along with utilitarian items, and grain in the cargo hold. The personal items collected from the cabin presented the excavation team with the high probability that the crew went down with the ship. This was confirmed with the reported removal of human remains by the Northeast Research team. DNA analysis of the remains concluded that the remains were most probably not those of an individual of African American descent.
The identity of the wreck has been legally contested by two parties involved in a legal battle regarding ownership of the wreck. The state of New York intervened legally in 2004, an event which coincided with the conclusion of Northeast Research's archaeological research project. This intervention was the beginning of a nine year legal battle over the fate of the wreck site known as the Dunkirk Schooner.
The Legal Battle
The legal battle over the Dunkirk Schooner was fought between Northeast Research, LLC, and the state of New York, specifically the United States Marshal for the Western District of New York. The legal dispute hinged on whether the wreck site was that of a legally abandoned shipwreck. The identity of the ship was contested as a factor in proving whether the ship could indeed be declared abandoned. According to the Abandoned Shipwreck Act of 1987, any wreck declared legally abandoned (where the owner(s) or descendants relinquished valid claims of ownership) would revert to ownership by the government, in this case the state of New York.
Two possible identities of the ship were presented by Northeast Research and the representatives of New York. Northeast Research maintained that the wreck was that of the Caledonia, a ship involved in the War of 1812 and later the Underground Railroad. Northeast Research insisted that the final owners of the ship did not abandon the wreck, and that contemporary descendants had not relinquished their claims either.
Arthur B. Cohn, the co-founder and executive director for the Lake Champlain Maritime Museum.
Description
Schooner. (Two masted wooden sailing ship).
Length: 24 meters
Width: 5.8 meters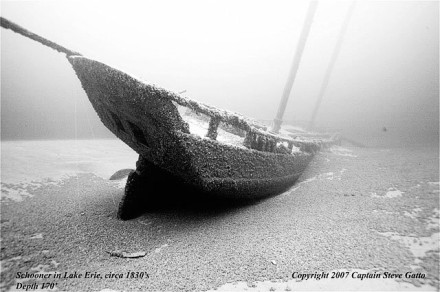 Status
Listed on the National Register of Historic Places in 2009.