History
De Hr. Ms. Deneb was een Nederlands schip van de Gouvernementsmarine. Het schip is op 1 september 1939 gemilitariseerd waardoor het deel ging uit maken van de Koninklijke Marine.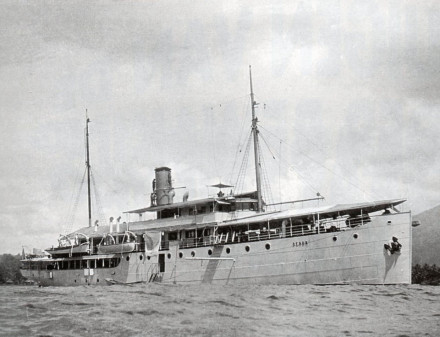 NIMH
Op 4 maart lag Hr. Ms. Deneb in straat Doerian. Daar werd het schip aangevallen door zeven Japanse bommenwerpers.
"Rondom het nietige scheepje rezen plotseling de waterfontijnen omhoog; het waren de near misses, die de nog geen 800 ton metende Deneb deden schudden en kraken. Drie bommen troffen het schip en richtten een vreselijke ravage aan. Niettegenstaande de vrijwel hopeloze positie waarin het stilliggende schip verkeerde, vuurden de oude kanonnetjes aan boord van de Deneb dat het een lieve lust was. Doch de Jappen waren met deze eerste aanval niet tevreden; het schip dreef nog en in een sierlijke boog keerden de vliegtuigen terug, nogmaals hun bommen richtend op de roerloze Deneb, die in Straat Doerian lag te zieletogen.
Een aantal van de opvarenden was, hun eerste opwelling tot lijfsbehoud volgend, over boord gesprongen om aan deze hel te ontkomen en zwemmend probeerden zij zo goed en zo kwaad als het ging de vaste wal te bereiken. De tweede aanval had - voor de Japanners althans - meer succes: niet minder dan 10 bommen sloegen aan boord van de Deneb krakend in, waaronder ook een brandbom, die het gehele achterschip in een oogwenk in lichtelaaie zette. Toch bleef de bemanning met het overgebleven stuk dóórvuuren: al was het dan moeilijk met deze kanonnetjes de vliegtuigen te raken, dan wilde men toch door het afweer de vijand dwingen om hoger te vliegen en zo de trefkans geringer te maken. Het mocht echter niet veel baten: de talloze treffers hadden twee leden van de bemanning gedood en een twintigtal lag zwaar gewond op het dek. En diegenen, die zwemmend trachtten de vaste wal te bereiken, bleken ook geen rekening te hebben gehouden met de krachtige stroom in Straat Doerian.
" (Bewerking van Alle Hens Chris Mark, 1950)
Twee opvarenden werden gedood, 20 opvarenden raakten gewond.
Gouvernementsmarine
Op 1 september 1939 werd de gehele vloot van de Gouvernementsmarine gemilitariseerd. Voor de schepen waren verschillende functies: een deel was ingeschakeld bij de bewakings- en onderzoekingsdienst of deden dienst bij de bebakening en kustverlichting, weer andere waren ingedeeld bij escorte- of bevoorradingsdiensten en de overige stonden ter beschikking van de plaatselijke marinecommandanten en bestuurshoofden. Zij lagen als regel op veraf gelegen posten en hadden tot taak gouvernementsambtenaren, politie of troepen over te brengen, alsmede goederen, munitie, benzine en voorts de bemanningen van bepaalde kustlichten af te lossen.
Description
Gebouwd: Amsterdam
Bewapening: 2 x 3,7 cm kanonnen uit 1890
| | |
| --- | --- |
| People on board | 45 |
| Power | 820 hp |
| Speed | 12 knots ~ 14 mph (22 km/h) |
| Length | 156.8 feet (47.8 m) |
| Width | 27.6 feet (8.4 m) |
| Draft | 8.9 feet (2.7 m) |
| Displacement | 623 ton |
References