History
The name of the ship was also written as De 7 Provinciën. The vessel was built in 1664-65 for the Admiralty of de Maeze in Rotterdam, by master shipbuilder Salomon Jansz van den Tempel.
Flagship of admiral De Ruyter during the anglo-Dutch war 1664-1666. Taking part in the hard fought Dutch victory in the Four Days Fight, the bitter defeat at the St. James's Day Battle, and acting as a command post as well as blockading the Thames during the Raid on the Medway. The vessel gave a good account of itself throughout the war, although it was partially dismasted during the Four Day's Fight.
In 1692, the ship, now armed with only 76 guns, fought at the Battles of Barfleur and La Hogue during the War of the Grand Alliance. The vessel was severely damaged during the fight and, in 1694, De Zeven Provinciën had to be broken up.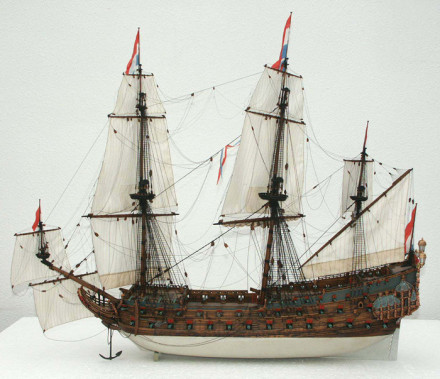 The Four Days Battle (11 to 14 June 1666)
The biggest sea battle of the Second Anglo-Dutch War and in the age of sail was a Dutch victory. However, the outcome is sometimes described as inconclusive, because both sides initially claimed victory. Fought from 1 June to 4 June 1666 in the Julian calendar then used in England (11 to 14 June Gregorian calendar) off the Flemisch and English coast. The English fleet of 56 ships, commanded by George Monck was outnumbered by the 84-strong Dutch fleet commanded by Admiral Michiel de Ruyter. The Dutch inflicted significant damage on the English fleet.
The English had gambled that the crews of the many new Dutch ships of the line would not have been fully trained yet, but were deceived in their hopes: they lost ten ships, with slightly over 1,000 men killed including two Vice-Admirals — Sir Christopher Myngs and Sir William Berkeley —, while about 2000 English were taken prisoner. Dutch losses were four ships destroyed by fire and over 1,550 men killed, including Lieut-Admiral Cornelis Evertsen, Vice-Admiral Abraham van der Hulst and Rear-Admiral Frederik Stackhouwer.
Aftermath
Two months later the recuperated English fleet challenged the Dutch fleet again, now much more successfully in the St. James's Day Battle. Though this proved to be a partial victory, the Dutch fleet wasn't destroyed and the enormous costs of repair after both battles had depleted the English treasury, so the Four Days Battle is usually seen as a minor tactical but important strategic victory for the Dutch fleet.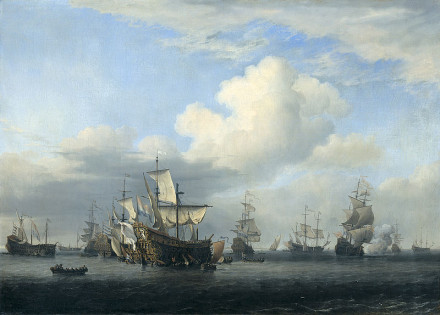 Description
Built by admiralty Maze 1665
Length: 163 ft
Beam: 43 ft
Draft 16.5 ft
Armament : 80 canons
Completion : ca. 500
Commander: Jan Willemsz van Nijmegen
It was the flag ship of admiral Michiel de Ruyter.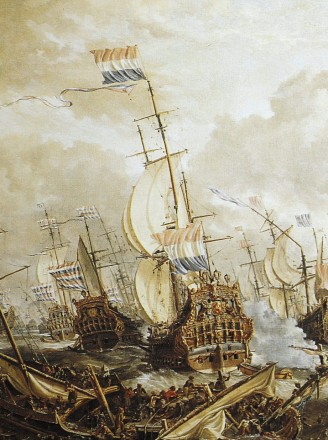 References