History
She served part of her career in the Dutch East Indies, from 1911-1918 and from 1921 onwards. During the 1920s, her crew included the future Rear Admiral Karel Doorman. She suffered a high profile mutiny on 5 February 1933, which had far-reaching implications for politics in the Netherlands. She was renamed Soerabaja in 1936.
On 18 February 1942 she was sunk by Japanese bombers. The Japanese raised her and used her as a battery ship until she was sunk again by Allied aircraft in 1943.
Description
Type: Armored cruiser (pantserschip). Coastal defence ship.
Built: 1908-1910 in Amsterdam. The last big warship built by The Royal Dutch navy.
Length: 101.5
Beam: 17.1
Draugth: 6.15
Complement : 448
Armament: 2× 280mm (11inch), 4 × 150mm (6 in.), 10 × 75mm (3 in.) and 4 × 37 mm guns.
Speed: 16 knots.
Displaced: 6.530 t.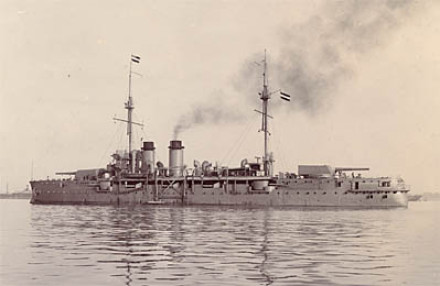 References