History
In the first decennia of the 17th century Japan was open in seeking contact with the European countries especially Spain and Portugal and later Holland. The first European ships built in Japan were constructed by William Adams pilot of the Dutch ship 'De Liefde' .
The Datu Maru crossed the Pacific in 1614 for the first time. She transported a Japanese diplomatic mission of 180 people to the Vatican as envoys to Pope Paul V, headed by Hasekura Tsunenaga and accompanied by the Spanish friar Luis Sotelo. After transporting Hasekura to the Spanish possessions of Mexico, the ship returned to Japan. Hasekura and the embassy went on to Europe, eventually reaching Rome.
In September 1616, the Date Maru traveled to Acapulco, She was sailed by Captain Yokozawa Shogen. The trip was ill fated and around 100 sailors died en route. The Date Maru arrived in Acapulco in May 1617. In April 1618 the ship arrived at the Philippines, where she was sold to the Spanish government and renamed San Juan Bautista.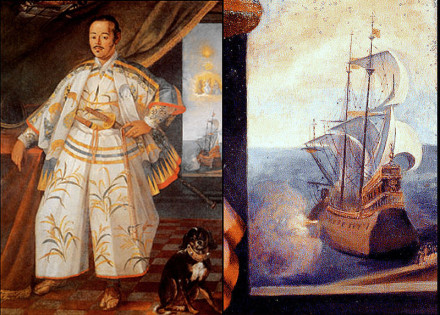 The Date Maru in Acapulco
The ship at nr. D is a Japanese ship or a ship coming from Japan. This could be The Date Maru as depicted in the "Bay and city of Acapulco in Mexico". Cardona was in Acapulco between end of 1614 and March 21, 1615.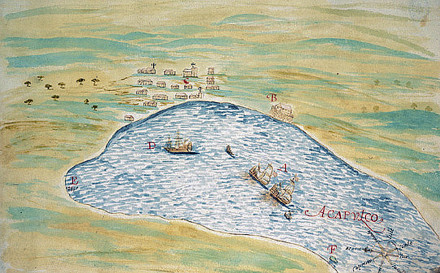 Replica
A replica of the Japanese Galleon San Juan Bautista Date Maru (1613) was reconstructed in 1993 on the basis of the records of the House of Date. Although the exact blueprints have not been found, the ships dimensions were recorded properly, permitting the reconstruction. The ship is currently on display in a theme park in Ishinomaki, in northern Japan.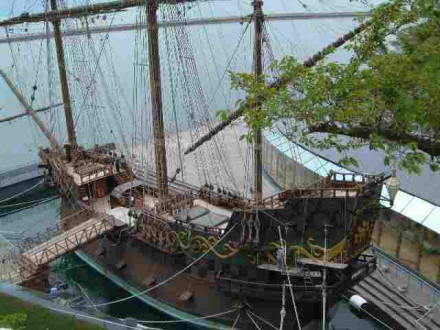 Description
Type: Spanish galleon. Built in Japan Tsuki-No-Ura harbour.
---
Length : 55.35 m (181 ft 7 in) o/a
Beam : 11.25 m (36 ft 11 in)
Drought : 3.8 m (12 ft 6 in)
Complement: 180
Armament: 16 cannons
---
The Date Maru was one of Japan's first Japanese-built Western-style warships. She was of the Spanish galleon type, known in Japan as Nanban-Sen ( lit. Southern Barbarian ships). The project had been approved by the Bakufu, the Shogun's government in Edo.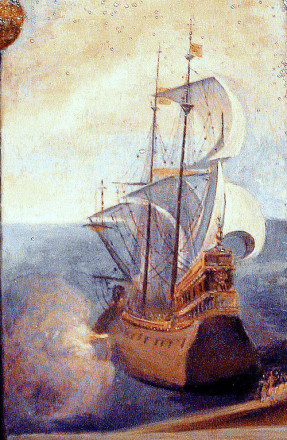 San Juan Bautista is reported to have required 45 days' work, with the participation of technical experts from the Bakufu, 800 shipwrights, 700 smiths, and 3000 carpenters. Two Spanish men are also reported to have participated to the endeavour: the friar Luis Sotelo, and the Spanish captain Sebastian Vizcaino. These efforts were seen with disapproval by the Spanish government in Manila.
References