History
Ceuclum is situated on a small hill, an ancient river dune. It is situated on the road from Noviomagus (Nijmegen) to Aduatuca (Tongeren) at the crossing of the river Meusse (Maas). The Roman settlements can be dated to ca. 50 AD. The nature of this early Roman settlement is not clear yet. Two (or three?) ditches could belong to a Roman castellum, but evidence is not conclusive. Absence of typically militaria (Aucissa-fibulae) seems to rule out a Roman fortress at this time.
From the Late Roman period, a Roman castellum is archaeologically documented. Under emperor Diocletian or Constantine the Limes in the province Germania Secunda was restored. In Cuijk a castellum was present in the first quarter of the 4th century AD. The bridge at Cuijk was a vital link between the first-line forts and the cavalry bases in the hinterland. The road from the south forked at the other side of the bridge: one road lead to the fort at Nijmegen, the other to forts along the Rhine.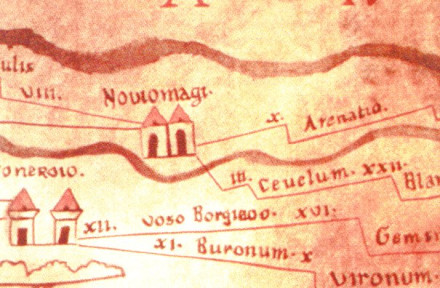 The Piers
Piers were placed at a distance of 19 meters and measured
17x7 meters. a pile foundation of ca. 150 oak piles formed the basis of the bridge platform. The piles were driven in
to the river bed. On top of pile foundation the stone pillars were placed.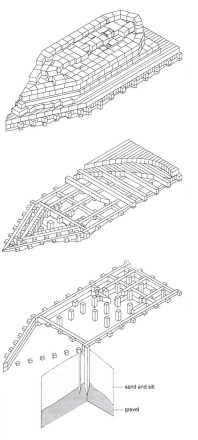 Description
The Roman bridge at Cuijk was a stone pillar bridge featuring a wooden superstructure resting on stone pillars. The bridge consist of 8 piers and spans between 150- 450 m. The location for the bridge was carefully chosen. The Meuse near Cuijk seemed very stable from geological reasons. Building a bridge was a large project. Assuming that the bridge had a length of 150 meters, 1600 m³ of wood, 9 tons of metal, and 5,000 tons of stone were needed.
Status
The Roman bridge and quay is an archaeological monument. Already known from Bogaers investigations in 1969 the exact location was established in 1989 by amateur archaeological divers. Between 1991 and 1993 archaeological research performed. In September 2013 monitoring and capacity building programme was performed in Cuijk 6000 area. The site is part of Roman quay works.
References
List of Roman bridges.
Wikipedia.
Enckevort, Harry van/Jan Thijssen (2002).
Cuijk, Een regionaal centrum in de Romeinse tijd.
Matrijs, Utrecht.
Goudswaard, B./R.A.C. Kroes/H.S.M. van der Beek (2002).
The Late Roman Bridge at Cuijk.
Berichten van de Rijksdienst voor het Oudheidkundig Bodemonderzoek nr. 44 5.
Mioulet J./C. Barten (1994).
De Romeinse brug tussen Cuijk en Middelaar: van ontdekking tot reconstructie.
Stassen, P. (2001).
Zandmaas: Proefproject 1. Rapportage bureau- en veldonderzoek Romeinse Maasbrug bij Cuijk-Middelaar.
Mergor in Mosam.
Bruggen, jaargang 22 - nummer 2, juni 2015.
Romeinse Maasbrug bij Cuijk.
Wikipedia.