History
Last Europe-Africa Liner, (Congoboot) traveling between 1951 and 1967 as a mixed cargo/passenger ship between Antwerp and Matadi (Belgian Congo).
The ship was built in 1950 at Cockerill Yards, Hoboken (Antwerp) for the Compagnie Maritime Belge.
As from 1967, she was operated as m/s Georg Büchner by VEB Deutsche Seereederei, Rostock (German Democratic Republic), from 1974 by VEB Deutfracht/Seereederei, Rostock, until she was decommissioned in 1977. The ship was then used as a training ship and later on the City of Rostock transferred ownership to an association called Förderverein Traditionsschiff e.V. which operated the ship as a youth hosteland training facilities.
Due to financial problemthe association sold the ship to a shady company based on the Seychelles (Argent Ventures Ltd.). The final buyer, however,was the scrap yard UAB Subare in Klaipeda, Lithuania. The Flemish umbrella organisation for water heritage Flanders Water Heritage (Watererfgoed Vlaanderen) launched a final attempt at conserving the ship and repatriating it to its original homeport Antwerp. Although theship was a listed monument, the Mayor of Rostock, under fierce protest, granted the authorisation to tow the ship to the scrapyard. During her passage to Klaipeda, the ship sank in mysterious circumstances in the Polish territorial sea.
Flanders Water Heritage continues to campaign for the refloating and repatriating of the shipwreck, which could become a central attraction in a major new shipping and port museum in Antwerp. Here, the Charlesville could be reunited with two other iconic shipwrecks: the medieval Cog of Doel and the Belgica, the first expedition ship to spend the winter in Antarctica.
Description
Passenger-Cargo Liner built in Antwerp (Hoboken)
Built1950-1951 as Charlesville for the Compagnie Maritime Belge (CMB). Between1967 and 2013 she was called the Georg Büchner.
She was the last in a series of 5 ships builtbetween 1947 and 1951 to link Belgium with its former colony Congo.
Dimensions
Length: 153,66
Width: 19,60
Draught: 8,39
Complement: 140
Passengers: 240
Tonnage: 10.901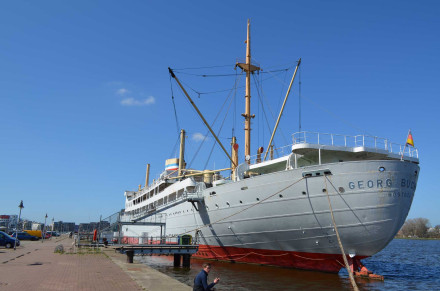 Status
The ship is protected under Art 303 of the UN Convention on the Law of the Sea.