History
Caracasbaai was used as an anchorage location around the 19th century. Ships anchored at Caracasbaai until the moment they were allowed to enter the harbour of Willemstad. In the meantime the crew and the passengers of the ships remained in the quarantine hospital and it was established that they were not infected with any illness. Around 1927 was Caracasbaai used to load tankers with oil products and to bunker cargo and passenger ships.
Description

Stockless anchor
This anchor dates from the mid 19th century and remained in use until 1960. The anchor is still in situ and forms an isolated location.
The anchor is well preserved, although here and there overgrown with coral.
Length of the shank: 340 cm.
Length of the Fluke: 90 cm.
Width of the Fluke: 50 cm
This anchor has shoulder instead of arms. The shoulder is 70 cm long
Status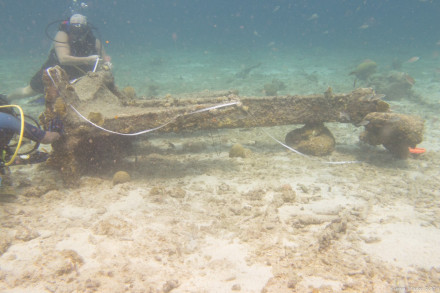 References
Hartog, J., 1968: Curaçao: From colonial dependence to autonomy, Aruba. .