History
The CAP ARCONA is best known for one of the most devastating maritime losses of life in World War II.
She was launched on 14 May 1927 by the Blohm+Voss shipyard in Hamburg for the Hamburg-South America Line (Hamburg Südamerikanische Dampfschifffahrts-Gesellschaft), leaving Hamburg (pictured below) on 29th October for her maiden voyage to Buenos Aires, Argentina.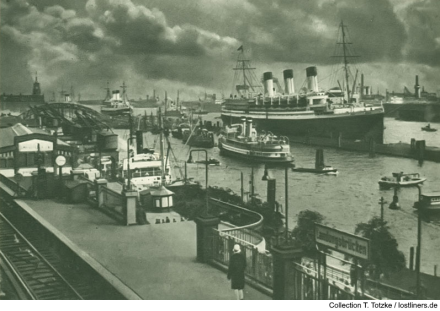 With a tennis court and other amenities, she was considered one of the most luxurious ocean liners of her time, and also one of the fastest. She completed 91 voyages with over 200,000 passengers for the Hamburg-South America Line; the last one was her return voyage to Hamburg in August 1939.
With the outbreak of World War II, the ship was requisitioned for the Kriegsmarine of Nazi Germany and stationed in Gotenhafen (Gdynia, Poland) as accommodation ship in 1940.
The ship was used in 1942 as stand-in for the Nazi propaganda film "Titanic" (1943) commissioned by Joseph Goebbels to stir up anti-British sentiments. The film, however, was never released in wartime Germany, as the film-director Herbert Selpin turned out to be an outspoken critic of the Nazi leadership and it was feared that the film - despite being ostensively anti-British - contained also critical undertones against the Nazi regime.
CAP ARCONA's short career as film-ship for the dramatisation of the Titanic disaster with over 1,500 dead can be seen as gloomy harbinger for her very own fate in the final days of World War II, claiming almost three times more lifes.
Description
On 3rd May 1945, a squadron of hawker typhoon fighter-bombers of the Royal Air Force (RAF) targeted CAP ARCONA and several other German vessels at anchor in Neustadt Bay, mistaking them for troop-carriers. Unbeknownst to the RAF pilots, CAP ARCONA held over 4,500 camp prisoneers who had been evacuated from the concentration camp of Neuengamme few weeks earlier to eradicate any evidence for slave labour. During the attack, the ship was set ablaze (pictured below) and capsized, and most of the prisoners either died in the fire, in the icy waters, where they were caught in the crossfire, or on the beach, where they were shot by the SS. Only about 400 people survived the ordeal.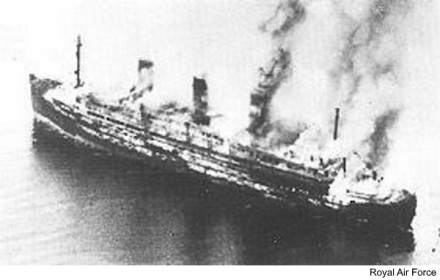 | | |
| --- | --- |
| Master | Heinrich Bertram |
| People on board | 4,500 |
| Length | 678.8 feet (206.9 m) |
| Draft | 28.5 feet (8.7 m) |
| Beam | 84.6 feet (25.8 m) |
| Tonnage | 27561 ton |
Status
The capsized wreck of CAP ARCONA later drifted ashore and was broken up in 1949. Parts of the wreckage are still scattered across the sea-bed along with the human remains of an estimated number of 3000 individuals still buried in the sediments.
Skeletal remains washed ashore the beaches in three consecutive decades, which were interred in mass graves at Neustadt in Holstein, Scharbeutz, and Timmendorfer Strand. Several memorials were erected to remember the grim fate of the deceased.
References
Benjamin, J., Pool, E. (2004).
The 100-Year Secret: Britain's Hidden World War II Massacre.
Guildford, CT, The Lyons Press.
Lange, W. (2005).
Neueste Erkenntnisse zur Bombardierung der KZ Schiffe in der Neustädter Bucht am 3. Mai 1945: Vorgeschichte, Verlauf und Verantwortlichkeiten.
In: D. Garbe (ed.), Häftlinge zwischen Vernichtung und Befreiung. Die Auflösung des KZ Neuengamme und seiner Außenlager durch die SS im Frühjahr 1945.
Bremen, Edition Temmen.
Lebovic, M. (The Times of Israel).
Goebbels' 'Titanic' cinematic disaster turns 70.
Long, D. (2017).
A Disaster in Lübeck Bay: An Analysis of the Tragic Sinking of the Cap Arcona, 3 May 1945 (= Dissertation)).
Nottingham Trent University.
Long, D. (The Conversation).
Why the RAF destroyed a ship with 4,500 concentration camp prisoners on board.
Orth, K. (2005).
Planungen und Befehle der SS Führung zur Räumung des KZ-Systems.
In: D. Garbe (ed.), Häftlinge zwischen Vernichtung und Befreiung. Die Auflösung des KZ Neuengamme und seiner Außenlager durch die SS im Frühjahr 1945.
Bremen, Edition Temmen.
Watson, R. (2017).
The Nazi Titanic : the incredible untold story of a doomed ship in World War II.
Boston, Da Capo Press.