History
From Rotterdam...
The Cadsandria* was launched on the 5th of September in the year 1857. Built by shipwright W.C. Hoogendijk junior, she was a clipper-frigate of 399 last (798 tonnes) equipped for the great sea voyage (Nieuwe Rotterdamsche Courant, 1857). Captained by J.A.C. Gerlach, the Cadsandriawas a private merchant vessel, yet also fit to take on several passengers besides the crew and the captain's wife. Thus when Cadsandria left Rotterdam on the 4th of January in 1858, she additionally carried on board three citizens, three officers and 133 petty officers. The military men were to be stationed in Batavia where Cadsandria called in somewhere between the 10th and the 13th of April that same year.
* Sometimes spelled as "Cadzandria".
...to Japan
While the passengers left the vessel, the captain and his crew continued their journey first to Samarang and then back to Batavia, before heading on towards Nagasaki Japan on the 12th of July (De Tijd, 1858c; NAHE, 1858). When Cadsandria was nearing Nagasaki harbor on the night of August the 7th, she was caught in a typhoon. Despite all efforts of the crew to keep her from drifting from her temporary shelter, Cadsandria was driven towards the cliffs behind the "Papenberg" or Takabokojima; an islet in front of the entrance towards Nagasaki bay.
Shipwrecked
Finally, in the morning of August the 8th, the Cadsandria shipwrecked. According to contemporary reports, the ship sunk until its mizzen mast. The ship and cargo was deemed lost, while even a sailor died saving the life of Anna Maria Fischer, captain Gerlach's wife. Anna and the surviving crew were then sheltered on Dejima; an artificial trading island in front of Nagasaki which was formerly inhabited by the Dutch, mostly through the Dutch East India Company, yet since Japan's reopening to foreigners now inhabited by a variety of Europeans.
Despite Anna Maria Fischer's initial survival, she was in ailing condition (De Oostpost, 1858). She would later die in a local hospital and was afterwards buried on the Dutch cemetery of Nagasaki where her grave can still be visited today.
Description
Type: Clipper frigate
Shipyard: W.C. Hoogendijk jr., Capelle aan de IJssel
Line: N.A. Koning & A.H. Liebert
Materials: Wood, coppered
Tonnage: 798 tonnes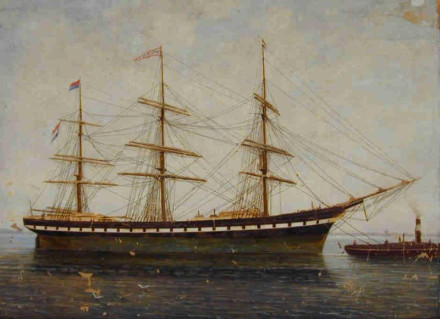 References
Algemeen Handelsblad, 1857.
Algemeen Handelsblad, 1858.
De Tijd, 1858a; 1858b.