History
The Brouwershaven was a war yacht and left Wielingen on January 16, 1627 for the East. She arrived in Batavia on 20 June 1627. The Brouwershaven was used on a route west of India and Persia. In 1632 the yacht was sent to Taiwan.
During a storm, Brouwershaven on the southeastern coast of Taiwan got stuck on 28-6-1633
The cargo (pepper alum and deer skins) and the guns were salvaged and taken to Fort Zeelandia. The ship itself remained stuck in 7 feet of sand. It was decided not to demolish the ship but to use it (temporarily) as a lookout post/fort. equipped with 3 cannons and a garrison of 15 soldiers.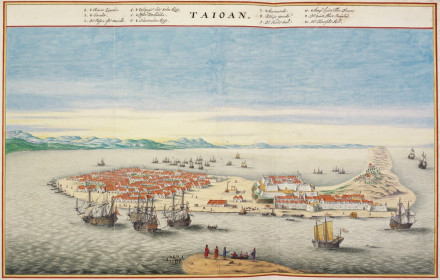 Taion, VOC stronghold on Taiwan, fort Zeelandia.
Description
| | |
| --- | --- |
| Master | Hendrick Claess Jongh |
| Tonnage | 200 ton (100 last) |
References