Description
The Brederode was built in 1780 and sailed to the Dutch holdings in Asia. On her homebound voyage to the Netherlands, she struck a reef during the night east of Cape Town, and sunk carrying a cargo of tea, silk, linen, spices, Chinese porcelain, gold and tin. 80 members of the crew were saved, and 12 members were lost. The rescued crew members were unable to identify the exact location of the wreck, as they had been afloat for four hours before being rescued.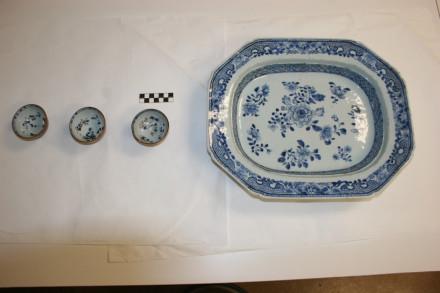 | | |
| --- | --- |
| Master | Gottlieb Mulder |
| People on board | 92 |
| Length | 150 feet (45.7 m) |
| Tonnage | 1150 ton (575 last) |
Status
In the second half of the 20th century, several salvors initiated searches for the wreck of the Brederode. The intention was to recover the cargo of porcelain and tin and dispose of it for commercial gain. The wreck was finally located and identified, in 1999, by Charlie Shapiro who found it 12 km off the coast lying in about 60 metres of water. The wreck was located in a survey by Aqua Exploration using a remote operating vehicle. Video taken at the site proved the identity of the wreck by detailing the VOC emblem on one of the cannons at the site. Initial exploratory dives revealed that crates of intact porcelain, cannons, the ship's bell and other structural features were visible on site.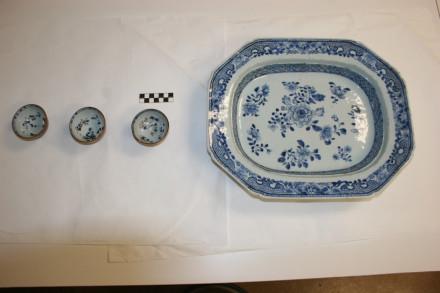 -Porcelain salvaged from the Brederode
-Diver at the Brederode Site
After protracted negotiations, the National Monuments Council and a consortium, represented by Mr Shapiro, entered into an agreement for the excavation of the wreck and a permit for the work was issued. At the time, the National Monuments Act No. 28 of 1969 was still in place which allowed salvage for financial gain. For reasons related to the internal politics of the consortium, the permit for the work was withdrawn without any site work being undertaken. The introduction of the NHRA, later in 1999, saw a change in the legislation which meant that private individuals could no longer salvage shipwrecks for commercial gain. Without the promise of financial gain and due to the expense of operations, interest in an archaeological excavation of the site waned.
Apart from being surveyed, no further work has been legally undertaken on the site since 1999. A collection of artefacts from the Brederode is held at Iziko Museums, Cape Town.
The Brederode is protected in terms of the National Heritage Resources Act, No.25 of 1999. This act regards historic shipwrecks as well. The site may not be disturbed without permission of the South African Resources Agency (SAHRA) and artifacts removed from the wreck may not be traded without SAHRA's permission.
References
SAHRA Database.
Lesa la Grange, Martijn Manders, Briege Williams, John Gribble and Leon Derksen (2024).
Dutch Shipwrecks in South African Waters: A Brief History of Sites, Stores and Archives [Unpublished].
Wenceslaus Hollar.
Dutch East Indiaman, MET.