History
In 1973 a wooden shipwreck was discovered near the ancient port of Sanitja on the island of Menorca. It was identified as a Fenician or Punic ship. More than 150 Punic amphorae were sdtill in situ. It is known as the Binisafuller shipwreck. The ampharae have been dated between 325 and 275 BC. Making the shipwreck the oldest documented wreck in the region.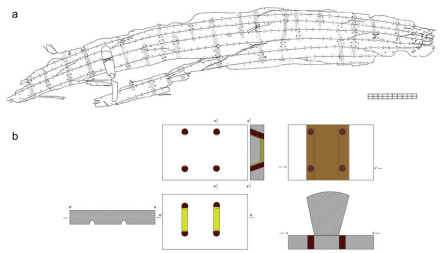 Binisafúller shipwreck: a) plan of the hull remains (after De Juan, 2018: fig. 1); b) schema of the lashed-frame assembly system (after De Juan, 2018: fig. 7).
Description
References
De Nicolás, Juan C. (1973).
État actuel de l'archéologie sous-marine à Minorque.
Cahiers d'Archéologie subaquatique II : 167-174.
Fernández-Miranda, Manuel; Belén, María. (1977).
El barco de Binissafúller.
Arqueología Submarina en Menorca, 69-82. Fundación Juan March, Menorca.
Guerrero, Víctor; Miró, Jordi; Ramón, Joan. (1991).
El pecio de Binissafúller (Menorca), un mercante púnico del siglo III a.C.
Meloussa, 2: 9-30.
Guerrero Ayuso, Víctor M.; Quintana, Carles. (2000).
Comercio y difusión de ánforas ibéricas en Baleares.
Quaderns de prehistòria i arqueologia de Castelló, 21: 153-188.
Tejedor, R. (1978).
Yacimientos de Binissafúller.
Excavaciones submarinas en Menorca. Mahon.
Aguelo, Xavier; Palomo, Antoni; Pons, Octavi; Juan, Carles de. (2008).
La excavación del pecio de Benissafúller (Menorca).
Actas V Jornadas de Arqueología Subacuática.
De Juan, Carles; Aguelo, Xavier; Palomo, Antoni; Pons, Octavi. (2010).
La construcción naval del pecio de Binissafúller (Menorca-Islas Baleares). Análisis de los restos de casco conservados.
Publications de l'Institut Français d'Études Anatoliennes, 20: 59-73.
Aguelo, Xavier; Pons Machado, Octavi; De Juan Fuertes, Carlos; Torres, Joan Ramón; Mata Parreño, Consuelo; Soria Combadiera, Lucía; Piqué i Huerta, Raquel; Antolín i Tutusaus, Ferran. (2013).
El pecio de Binissafúller. Estado de las investigaciones.
Arqueología subacuática española: Actas del I Congreso de Arqueología Naútica y Subacuática Española, vol. 1: 65-78.
De Juan, Carlos (2014).
Les épaves de Mazarron et de Binissafuller - La tradition ibérique d'influence punico-phénicienne.
Dossiers d'Archéologie, 364: 26-33.