History
The Aernhem or Arnhem was a Dutch East Indiaman sailing for the Dutch East India Trading Company (VOC) as a merchant vessel between Holland and the East Indies. The ship was undercommand of Pieter Anthoniszoon and was one of a fleet of seven ships homeward bound. The other ships were Wapen van Holland, Prins Willem, Vogel Phoenix, Maarsseveen, Prinses Royal and Gekroonde Leeuw. Some of the ships never made it to theCape of Good Hope after the fleet was broken up by aviolent stormnear the east coast ofthe Africancontinent. The Aernhem ran aground at the Cargados Carajos/Saint Brandon/Brandao (a group of atolls and reefs)and was lost at sea. Approx. 80 survivors reached Mauritius. The unfortunate loss of the Aernhem was written about by Andries Stockram in the book "Korte beschryvinge van de ongeluckige reyse van het schip Aernhem".
Archaeological description
The wreck site of the Aernhem has not been located yet. She was lost in a storm of the Brandon Islands/ Cargados Caragosin the proximity of Mauritius, East of the Madagaskar.Due to its loss at open water she probably lies at a great depth in the ocean. No search or salvage attempt are known regarding the Aernhem.
Description
Master: Pieter Anthoniszoon
Built: yard Amsterdam , 1654
Chamber: Amsterdam
Tonnage: 1000, 500 last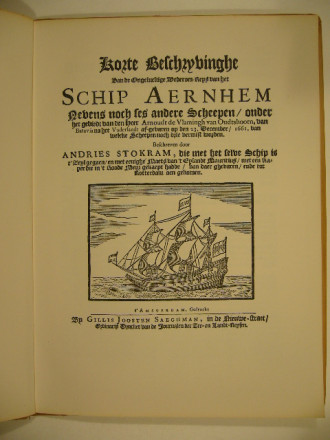 References
Stokram, A. (1993).
Korte beschryvinge van de ongeluckige weer-om-reys van het schip Aernhem. - ISBN 90-73853-02-8.
Amsterdam: Terra Incognita.