History
The A.J. Goddard was a steamer used during the Klondike Gold Rush that started in 1896. When gold was discovered in Canada's Yukon River valley, it triggered a frenzied stampede of prospectors who dreamed of making a quick fortune. Goddard brought the boat to Alaska and with the help of his wife Clara, dismantled and carried the boat through the narrow mountain passes and reassembled it on the shore of Lake Bennett. He planned to make his money transporting miners and freight along the Yukon River. The Goddard transported miners and freight back and forth to Dawson City. The craft had a small repair shop, forge and kitchen, making it a self-sufficient shop for the Yukon prospectors. The Goddard operated on the river until October 1901, when she was wrecked in an icy storm on Lake Laberge. Only two members of the five-man crew survived.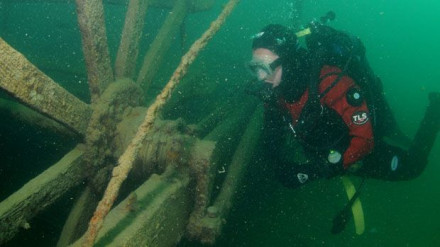 Yukon River Survey
Often vessels were left derelict on shore along the banks of the river, where they had been winched out of the water in the fall to protect them from ice damage. As a result, the Yukon now contains one of the greatest intact collections of stern-wheel vessels known to exist, and many are in excellent condition. The Yukon River Survey was initiated in 2005 by John Pollack and Robyn Woodward, and became an INA project in the fall of 2007. Given the many potential sites in this unstudied area, we are focusing our efforts on a specific subset of projects. The over- arching priority is to document the range of construction techniques used on these late 19th-century vessels. (source INA)
Description
In 1897 engineer Albert Goddard commissioned the construction of a flat-bottom sternwheeler in San Francisco. In total, 266 stern and side-wheeled steamboats operated on the Yukon River in Alaska and Canada.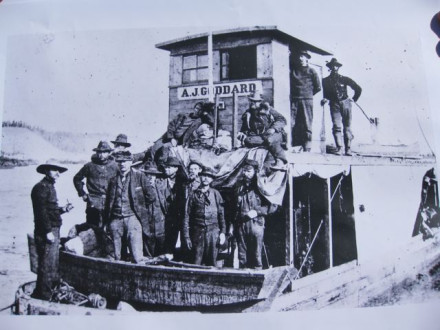 Status
The wreck is well preserved. The shipwreck was literally an untouched time capsule. Boots and a jacket of one of the crew still lay on the deck, likely ditched there in haste before the crewman attempted to swim to shore. Other artifacts associated with the small repair shop, forge, and kitchen also lay undisturbed.
The Goddards location remained a mystery until 2008, when an international team from the Institute of Nautical Archaeology, the Yukon Transportation Museum, and the Yukon government discovered the wreck during a sonar survey looking for gold rush wrecks. It wasnt until one year later, however, that this team would have an opportunity to dive and investigate the wreck.
References
Thomas, L./D. Davidge/J. Pollack (2012).
The Wreck of the A.J. Goddard: A sternwheeler from the days of the Klondike Gold Rush.