History
Historical description
Adelaar was a Dutch East Indiaman (spiegelretourschip) that sailed for the Dutch East India Company (VOC). She carried mostly specie (money in the form of coins) to the Dutch East Indies where it was traded for goods that were then carried back to Patria. The ship made two round trips to Batavia between 1722 and 1727, and sailed on a third under a new captain (William de Keyser) on 21 March 1728. She intended to avoid sailing the English Channel due to political instability between England and Holland. This meant that she took what is called the "route achterom", which was a northern route around the British Isles. This route was avoided due to it's dangerous sailing conditions unless political conditions made it necessary to avoid the English Channel.
Two weeks after Adelaar set sail, she was caught in a gale, and was forced onto a reef off Greian Head on the northwestern side of Barra in the Scottish Hebrides. She had been sailing dangerously close to the shore, and was smashed apart by the rough seas upon the reef she struck. The destruction she suffered on the reef was rapid and total, and none of the people on board survived the event.
It was reported soon after that bodies were seen floating in the area and found between the rocks for days after the wreck. A salvage attempt was undertaken by a Scotsman just after Adelaar was lost. While relatively little was recovered due to the dangerous conditions of the area,most of the specie was found, which resulted in a lengthy legal battle between the salvagers and the Dutch over the rightful owner of the coins.
Cargo
The Adelaar carried a general cargo and seventeen chests of silver ingots and coins to pay for her anticipated return cargo of spices, tea and porcelain. Lead ingots and characteristic yellow bricks (of size about 175 by 75 by 35mm) were also carried in considerable numbers, apparently as 'paying ballast' towards the same end.
Archaeological description
The scattered remains of this Dutch East Indiaman, wrecked in 1728, were found around the exposed reef known locally as Maolach Sgeir (Cursed Reef) in 1972. Underwater investigation was carried out by Colin Martin and Tony Long. Following the discovery of the wreck in March 1972 a three month season was completed during which the site was surveyed. In 1974 there was a two month excavation season at the site of the Adelaar by St. Andrews Institute of Maritime Archaeology. Most elements of the wreckage were found in a series of deep gullies on the landward site of the reef.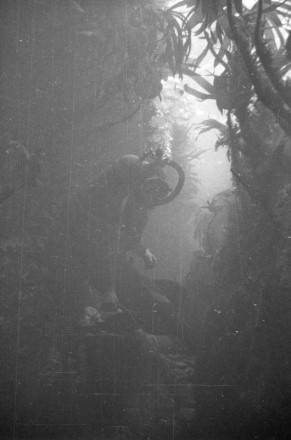 A massive concretion deposit containing shot, iron tools, and nails was examined in detail, and selective recoveries were made. Small finds, which were not numerous, included a copper pan, pan-lid handles, fishing hooks, small shot of various gauges, copper bars, a pump valve, shoe and belt buckles, part of a pocket watch, a pair of dividers, glass, a single sherd of stoneware pottery, clay pipe fragments, some silver ducatons, and four pieces of gold jewellery. (Source RCAHMS).
All the iron guns carry the raised letter `F on the trunnion faces, indicating that they were cast at Finspong, the Swedish foundry North of Stockholm which supplied most VOC cast-iron ordnance in the 18th century. The multiple mouldings are typical of Swedish castings, comparable examples being found on the wrecks of the Batavia (Australia) and Kennemerland.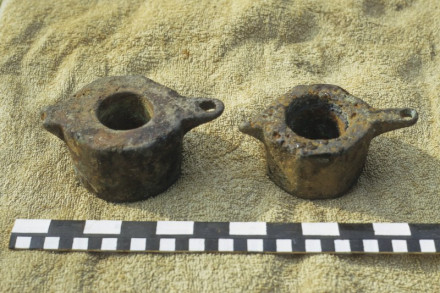 More archaeology on the Adelaar (history, finds, status)
Description
Name: Adelaar, (Eagle)
Type: Dutch East Indiaman (spiegelretourschip)
Built: 1722, Yard: Zeeland (Rammekens)
Chamber: VOC Zeeland
Tonnage: 405 last
Length: 145 ft (44 m)
Beam: 11 m
Laden draught: 4 m
Complement: 220
Armament: 36 guns (2 bronze) and 8 breech-loading guns
Captain: Willem de Keizer
Location
Found at middle rock in the Maolach Sgeir (cursed reef) of Greian head at the island of Barra on the Outer Hebrides.
Status
The wreck site has been found and researched in the 70's. Protected under the protection of Wrecks Act.
References
Gegevens VOC-schip Adelaar.
De VOCsite.
Dutch-Asiatic Shipping.
Details of voyage 2729.3 from Rammekens.
Huygens ING.
NA-1.11.01.01-551, [s.a]. Lijst van alle zoodanige Schepen in soorten als bij de Generale Oostindische Compagnie zijn gemaekt oft gekocht als gehuurt alsmede waer oft de zelfde zijn agter gebleven ofte verongelukt als genoomen en verbrand, vermist of.
RGP-GS193, 1985. Generale Missiven van Gouverneurs-Generaal en Raden aan Heeren XVII der Verenigde Oostindische Compagnie : Deel VIII: 1725-1729. - Den Haag: Martinus Nijhoff, 1985. - 275 p., [nl] - ISBN 90-6890-033-1.
Velde, Paul van der, 1990. The Deshima dagregisters : their original tables of contents : Vol. V 1720-1730 . - Leiden: Center for the History of European Expansion, 1990. - 344 p., [en].
Martin, C.
The Adelaar:a Dutch East-Indiaman wrecked in 1728 off Barra.
The International Journal of Nautical Archaeology (2005) 34.2: 179-210.